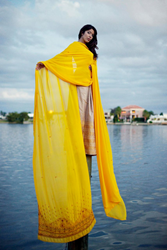 I believe that with love, communication, and understanding, we can put aside our anger and instill a lasting peace in the Middle East. We owe it to the children there for they are innocent. They are the future.
(PRWEB) July 25, 2014
Combating conflict and hate with aesthetics and art, Assamese-American fine artist Bula Barua has launched a series of fine art pieces to promote peace and an end to the conflict raging in the Middle East.
Bula Barua is an Assamese-American visual artist and well-known published author of short stories and poems. Raised in the USA by immigrant parents from Assam, India, she primarily works with acrylics and oils on canvas, paper, and aluminum. Her works are included in many private and public collections around the world.
Finding the current circumstances in the Middle East intolerable, with mounting conflict and a rising death toll, she decided to launch a series of fine art pieces promoting peace, communication, and understanding on both sides. These pieces will each be sold individually to raise funds and awareness for The Way to Happiness Foundation International's Bring Peace Movement, which is currently operating across the Middle East to promote peace and common values using The Way to Happiness program in both Hebrew and Arabic.
For more information, please visit http://www.thewaytohappiness.org and Bringpeacemovement on Instagram.