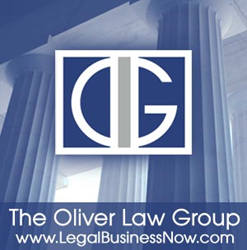 The Oliver Law Group P.C. successfully navigating the legal landscape for businesses. Business Instincts. Legal Success. Contact the Oliver Law Group P.C. for a free business consultation by calling (800) 939-7878 or visiting www.legalbusinessnow.com
Detroit, MI (PRWEB) July 22, 2014
The Oliver Law Group P.C., an accomplished business law practice representing clients nationwide in various industries, is announcing the launch of its' new website, LegalBusinessNow.com. This new legal website for businesses was developed to provide large and small companies in various industries with information for effective legal business representation on a wide range of legal services companies are facing today.
The firm has a broad experience litigating cases in many different industries involving:
• Municipalities / Government Law
• Shareholder Actions and Corporate Governance
• Fraud and White Collar Crime Litigation
• Whistleblower Lawsuits
• B2B contract disputes
• Government Regulatory and Compliance
• Defense of Product Liability Litigation
• Defense of Class Action Lawsuits
About The Oliver Law Group P.C., An Effective Business Law Firm
The Oliver Law Group is currently at the forefront of some of the most important business litigations in U.S. courts:
• Serving on the Plaintiffs' Steering Committee in the aluminum antitrust litigation now in U.S. District Court(In Re Aluminum Warehousing Antitrust Litigation, MDL No. 2481)
• Representing dietary supplement manufacturer LG Sciences in a contract dispute with a major retailer
( United States District Court Eastern District of Michigan Southern Division No. 2:12-cv-14843 )
• Special Counsel regarding bankruptcy proceedings after the Department of Justice's international "honey" transshipment investigation
( United States Bankruptcy Court Eastern District of Michigan Southern Division Case No. 13-58200-WSD )
• Involved in general and specialty municipal/government issues.
Experience. Dedication. Trust. Oliver Law Group P.C.
Founded by Managing Partner Alyson Oliver, The Oliver Law group understands that litigating business law matters is always a delicate and complex task, one not every law firm is up to the challenge for. At Oliver Law Group P.C., our legal team has effectively represented scores of business law clients both inside and outside the courtroom. Our attorneys work closely with our clients to develop a workable and cost effective strategy for handling business disputes. In addition to being effective trial advocates, all of the firm's business law attorneys are extremely adept at handling matters via alternative dispute resolution (ADR), arbitration and mediation.
At the Oliver Law Group P.C., our business law attorneys are dedicated to helping to ensure you receive the information you will require to make sound decisions when it pertains to business and commercial litigation issues. Our legal team will take the time to listen so they are able to arrive at a clear understanding of your goals, and will further provide you with all the legal options and strategies that stand to be the best chance of achieving a successful outcome on your behalf. Finally, you can rest assure that all our business law attorneys and staff will respond to your questions and communicate with you in a timely manner that keeps you fully informed about the progress of your case.
The Oliver Law Group is a full-service business law practice that represents companies nationwide. If you would like to learn more about the Firm, or need assistance with a business law issue, please visit LegalBusinessNow.com, or call 1-800-939-7878 for a complimentary business law consultation.
The experience of a large firm. The 1-on-1 dedication of a small firm. A reputation built on trust.
Experience. Dedication. Trust. Oliver Law Group P.C.
If you are involved in a business or commercial matter that requires sound legal guidance, please contact the business law attorneys at Oliver Law Group P.C. today for an in-depth review of your business needs. To learn more about the Firm, or need assistance with a legal business issue, turn to the law firm with the Experience, Dedication, and Trust you deserve. Contact the Oliver Law Group P.C. for your free business consultation by visiting http://www.legalactionnow.com or calling toll free 800-939-7878 today.
Contact:
The Oliver Law Group
(800) 939-7878
950 W University Drive
Suite #200,
Rochester, MI 48307