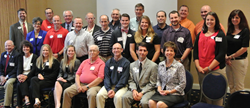 For the first year we wanted to keep it small, thinking that we could use it as a pilot study and build upon this for the next year. I am so pleased with the success of this event and how well it was received by attendees.Yvette Ingram, President.
Gettysburg, PA (PRWEB) July 22, 2014
The Pennsylvania Athletic Trainers' Society (PATS) held its inaugural Leadership Forum on June 12th, during the Annual Meeting and Clinical Symposium in Gettysburg. This forum was developed to orient volunteer leaders to the Society's mission, vision, and strategic goals.
Executive Director Linda Mazzoli began the presentation with an introduction into leadership, drawing upon her experience in leadership roles within the NATA, PATS, and the business world. She related leadership to common skills displayed by athletic trainers: evaluation, diagnosis, and rehabilitation. These lessons led directly into a presentation by 2014 NATA Hall of Fame inductee Dr. Paula Turocy, who gave insight into the history of PATS and challenges overcome by the Society. Dr. Turocy demonstrated how lessons learned from the obstacles faced in the past should be kept in mind as the profession moves forward in the ever changing world of healthcare.
Outgoing PATS President Greg Janik followed with insight into how the strategic plan is developed and regularly evaluated and communicated amongst the membership. President Elect John Moyer and incoming President Elect Guy Sanchioli led a discussion on the upcoming strategic plan which will be developed in July 2014. This session provided attendees with the opportunity to brainstorm and contribute ideas to be considered for inclusion in the upcoming strategic plan. "It was a privilege to be included with the distinguished panel of PATS leaders to present our goals for the future PATS Strategic Plan," stated President Elect, John Moyer.
The forum was attended by 22 PATS committee chairs/members, county delegates, and executive board members. After a successful first installment, future forums may be opened up to PATS members not currently in leadership roles but who are interested in getting more involved with the Society. "For the first year we wanted to keep it small, thinking that we could use it as a pilot study and build upon this for the next year. I am so pleased with the success of this event and how well it was received by attendees." - Yvette Ingram, President.
The 2014 PATS symposium also included programming of interest for athletic trainers working in various clinical settings. The three day event began with diverse advanced track sessions including: Utilizing Functional Movement Screening in Athletic Training, Concussion Management Update and a highly attended instrument assisted mobilization workshop, "Tecnica Gavilan" presented by Gary Lang. The diverse programming prevailed throughout the symposium including a hands on session discussing meniscal transplantation, Autism Disorders and Athletics, and an examination of the challenges athletic trainers may face with the new Affordable Care Act.
The symposium wrapped up with the forum "A Team Approach to Healthcare" inclusive of sessions pertaining to common issues and interaction with other allied health care professionals that athletic trainers may encounter on a daily basis. The forum was highly attended and included excellent presentations on Challenging Dermatological Conditions, working in concert with school nurses, and the legal protection pertaining to HIPPA and FERPA. NATA President Jim Thornton closed out the forum by providing PATS attendees with a candid insight into the ongoing professional degree debate and the current status with CAATE.
The 2014 PATS Symposium proved to be a very successful educational event providing diverse and contemporary programming for PATS attendees.
For more information regarding this topic or to schedule an interview with PATS President John Moyer, LAT, ATC, please contact Linda Mazzoli MS, LAT, ATC, PATS Executive Director at patsexecutivedirector(at)gopats(dot)org.
The Pennsylvania Athletic Trainers' Society, Inc. is a progressive organization of licensed health care professionals who work under the direction of a licensed physician. Our society continues to increase public awareness and education regarding Athletic Trainers and the Athletic Training profession while serving as the premier source of information for public safety, injury and illness prevention, early intervention, patient care, and healthcare delivery for the physically active in the Commonwealth. For more information on PATS, visit http://www.gopats.org.
"The Keystone to a Healthy and Physically Active Life"