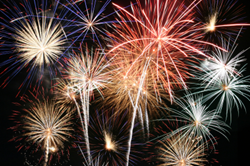 I noticed there were a lot of campers in the park this year. It is nice to see them come to enjoy the wonderful display that Narconon Arrowhead puts on for this community.
Canadian, Oklahoma (PRWEB) July 22, 2014
An Ideal Location
Narconon Arrowhead, the Oklahoma-based effective rehab center, is located in the naturally tranquil and very beautiful Arrowhead State Park, overlooking the expansive Lake Eufaula.
Its location is ideal for both a rehabilitative setting, as well as a perfect place to host a traditional Independence Day display of fireworks. Launched over the waters of the lake with attendees watch from the beach, while swimming in the lake, or from the nearby campgrounds and hilltops, it is a much enjoyed annual activity by all who are in attendance.
A Community Event
Narconon Arrowhead traditionally hosts a fund-raising bake sale to subsidize its fireworks display, and the interaction increases community participation and enjoyment of the overall event.
The facility is located a short distance from the small community of Canadian just outside the entry to Arrowhead State Park, and only 8 miles from the nearby town of Eufaula. McAlester, Oklahoma is a short drive of 20 or so miles from Arrowhead State Park, as well.
Attendees traditionally enjoy the lakeside show from the tailgate of a truck, some folding chairs set-up on a knoll above the lake, from the beach closest to the Narconon Arrowhead facility where the fireworks can be seen the best, from the water itself, or from the nearby campgrounds in the park.
Comments from Attendees
This year, a number of attendees expressed their enjoyment and appreciation of the Independence Day celebration, happy to have shared it with the students currently on the Narconon program, other staff members, families and friends, and people from the local communities.
One attendee said, "July 4th's activities were great this year!" and that it was especially nice to have families come in for the event.
Another commented, "It was really nice to see the students so happy and all the staff and their families having fun also."
A Narconon Arrowhead staff member expressed appreciation to all who helped make the 4th of July event a success, saying "This year, through donations and bake sales, we were able to hold a great event at little to no expense to the facility. Well done to everyone that helped out."
Another staff member commented, "We had a wonderful firework display, lots of snacks, swimming and fun. The whole mood of this event was fantastic and felt really good to see."
"I think we had more children in attendance this year than ever before. Thank you to everyone who helped run control and helped to make this event great and safe," shared another.
Yet another staff member said, "I noticed there were a lot of campers in the park this year. It is nice to see them come to enjoy the wonderful display that Narconon Arrowhead puts on for this community."
Much appreciation is extended to Narconon Arrowhead for providing its students, staff and local communities with a safe, fun and memorable 4th of July celebration.
Narconon Arrowhead is a drug rehabilitation facility located in Southeastern Oklahoma. It delivers the holistic and drug-free Narconon Program known for its Drug-Free Withdrawal, its New-Life Detoxification Program and its comprehensive Life Skills Program.
For more information, or help with substance abuse, please visit http://www.narcononarrowhead.org or call toll-free at 1-800-468-6933.