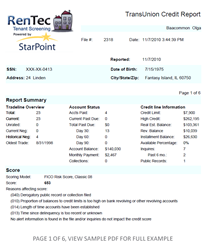 The most important component of getting your vacancies filled is letting the world know it's available.
Grants Pass, OR (PRWEB) July 23, 2014
Most landlords count on their properties being filled with paying tenants at least 11 months out of the year. This means when a tenant does decide to make a move it is imperative to have the property ready to go for the next tenant quickly, and get the vacancy noticed by the most qualified tenants as rapidly as possible. Rentec property management software now provides landlords and property managers all the best tools to make this process smooth and efficient.
The process begins with the cleanup and repair process from the previous tenant. This begins by pulling the move-in inspection report and repairing and cleaning the property to the state it was in prior to the previous tenant or better. In most states, tenants are responsible for damages beyond normal wear and tear and Rentec manages this entire process for you.
Once the property is ready to rent, the most important item is getting the word of it's availability out there to potential renters. Renter's look in different places for vacant properties now than they used to. Classifieds are old news, and most all renters have access to the internet or smart phones. This indicates a landlord's audience is flipping out their GPS and web enabled phone for finding rentals rather than buying a paper. Rentec now offers a multitude of tools to assist landlords in providing a professional presence online for landlords.
Rentec makes publishing a professional ad with plenty of full color hosted pictures to craigslist as simple as 2 clicks. Posting to the newer rent search sites such as Zillow, HotPads, Trulia, and dozens others is even easier as Rentec will take the property data and price and syndicate the information directly to those sites. These tools provide up to 50 times the exposure of classic advertising methods.
Rentec offers a free trial and free training to property managers and landlords as well as a full suite of tenant screening solutions. To learn more, visit http://www.rentecdirect.com.
About Rentec Direct
Rentec Direct provides cloud based property management solutions for managing properties, tenants, and owners. Other popular solutions include, tenant ACH payments, criminal and credit background screening and online syndication of vacancies to more than 20 popular websites.