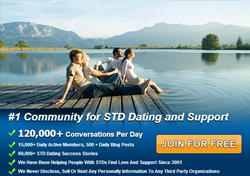 Los Angeles, California (PRWEB) July 24, 2014
It is common that, after being diagnosed with a sexually transmitted disease, many people from all around the globe begin to feel like the world is falling apart around them. While some infections are pretty much harmless or, at most, cause a minor discomfort, there are others that can be life threatening if not diagnosed and treated.
Because of this, after being diagnosed, many people feel they will never be able to have a love life. However, a great std dating site, PositiveSingles.com, helps those who have different STDs (including HIV, HPV, herpes, syphilis, and more) to find others who are living with the same or even a different infection. As everyone has similar concerns about dating with herpes or other stds, this is how thousands of couples with STDs have met and are now living happily together. Furthermore, reading different success stories motivates people to try to find new loved ones, regardless of their condition, as it encourages them to live life to the fullest, because having an STD is not as big of an impediment as one initially assumes.
"Almost everyone who is diagnosed with a sexually transmitted infection or disease initially has some of the same reservations about dating with an STD, and that is where PositiveSingles.com comes in," says Jenelle Marie, Spokesperson for PositiveSingles.com. "It's not easy to put yourself out there again after a diagnosis, because the biggest concern is rejection – rejection that is a result of the infection and that has nothing to do with the person's character. Having a supportive, friendly environment from which to start dating again allows people to get their feet wet and is an excellent confidence-booster. Our platform helps reassure users that they are still desirable, loveable, and sexy, and a healthy relationship is still possible while living with an STD."
PositiveSingles.com doesn't require users to post any type of sensitive or defining information. Instead, it offers a platform allowing people to post their stories and for others to read them. With this in mind, any user can read the more than 1,300 inspirational STD stories that are sure to encourage confidence in many other who are living with an STD.
Additionally, the site features over 1,600 dating success stories with people who have found courage and met new partners through the use of this site. If anyone feels like they lack the skills needed in order to date others on the site properly or to keep themselves safe, there are also over 1,200 posts with dating advice and safety tips that anyone can access. However, when it comes down to the success stories, it is important to remember that the actual number is much higher, as there are thousand others who just did not want to share their stories but found partners while learning to live with an STD, thanks to the help provided by PositiveSingles.com.
About PositiveSingles.com
It represents one of the world's most popular dating sites for people who are living with an STD. Users can interact, date, and find potential matches by using the tools that the site offers. It's not only popular due to the extremely high number of users and possible matches for everyone, but the site also puts the user's safety first, ensuring that no private information is submitted or accessible to the public.
Media Contact:
Jenelle Marie
mediapress(at)successfulmatch(dot)com
Spokesperson of PositiveSingles.com