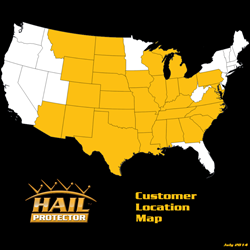 A great product and an even better company.
Dallas, TX (PRWEB) July 22, 2014
The Hail Protector System was launched to market less than one year ago and is already protecting customer vehicles in 30 US states, six countries, and four continents.
Never before has an automobile hail protection system been available on the market that covers any size vehicle, protects against damage from any size hail, protects the entire vehicle, and provides multiple levels of hail storm warnings. Customers from around the world have shown just how much they appreciate the complete design of the system with their purchases, photos, and glowing reviews.
The Hail Protector™ Automobile Hail Protection System was launched to market on August 2nd, 2013, after 5 years of design, prototyping, and torturous testing. The Hail Protector™ System is the world's first car cover system for reducing and largely eliminating the fear and effects of hail storms on automobiles and their owners. "We are honored to have experienced this level of success in such a short amount of time on the market. If the automobile insurance industry gets directly involved at some point, it will be truly amazing given the idea was born at a backyard birthday party for one of my daughters," said Michael Siciliano, President of Hail Storm Products and inventor of the system. "Inventing a product is one thing, but bringing it to market takes much more patience and determination. We've benefited from studying the history of successful inventors and entrepreneurs," added Siciliano.
The most recently available insurance industry data, provided by the The National Insurance Crime Bureau, shows the total number of hail damage claims in 2012 which exceeded 320,000 claims in the USA alone. That doesn't include vehicle owners that didn't file an insurance claim or couldn't because they didn't have comprehensive insurance coverage. Automobile owners most often cite the most difficult part of hail damage being the inconvenience in losing their vehicle for sometimes months when a large metropolitan area has been hit with hail.
The system begins to protect vehicles from hail damage immediately upon activation. The cover is offered in 3 sizes for sedans/hatchbacks/wagons and 3 for SUVs/trucks/minivans. The lightweight, portable, remote controlled system includes three power options. It will run for about 1 hour on its "AA" battery pack, 3 hours on its car accessory plug, without affecting the starting power of the vehicle, or virtually indefinitely on its AC power cord.
Featured on "Invention USA" on History® channel, Discovery® channel's "Invent This!: Daily Planet," twice on The Weather Channel® and in over 100 print and online media publications, the Hail Protector System has proven its abilities time and time again. The hail cover has been tested in winds in excess of 60 mph, and the company uses video to teach how to position your vehicle to optimize system performance in even higher winds. The system was also successfully tested against a simulation of the largest hail stone in documented history. "We push the system to levels not typically experienced in hail storms. The five pound medicine ball we dropped from 71 feet exceeded by 20% the energy that would have been created by the 1.94 pound hail stone found in Vivian, South Dakota in 2010," said Steven Krug, Executive Vice-President of Hail Storm Products. "The most gratifying part of the past year has been our customers' appreciation of our level service. We take great pride in customer service, before, during, and after the sale. One customer recently said in a review, 'A great product and an even better company," added Krug.
To place an order, visit the Hail Protector™ website.
About Hail Storm Products LLC:
Hail Storm Products is a Texas corporation formed in 2011 for the purpose of developing, manufacturing, and distributing the Hail Protector™ Automobile Hail Protection System. Hail damage to auto's exceeds $1 billion each year and occurs throughout the Continental US, resulting in tremendous loss of vehicle value and owner inconvenience while seeking repair or replacement. The company holds an Intellectual Property portfolio consisting of patents pending in products, trademarks, and hail related URLs. Hail Storm Products is interested in discussions with individuals, businesses, and insurance companies interested in participating in revolutionizing this market segment. For more information, please visit http://www.hailprotector.com or email us at info(at)hailstormproducts(dot)com.