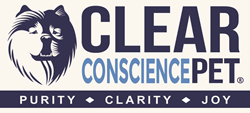 Las Vegas, Nevada (PRWEB) July 22, 2014
When is an "all-natural" pet food or treat not really all that natural? In the opinion of one twenty year veteran of the natural pet food industry, all too often.
Anthony Bennie started as an entry-level pet food salesman in the nineties, and then started an independent rep firm that helped to build what for a time was the biggest brand in the natural pet food industry. Now he is a writer, an "accidental" radio host, and he and his wife Amanda Malone Bennie are the founders of Clear Conscience Pet, a manufacturer of multi-award winning pet treats and pet food toppers.
But along the way, Bennie has become disillusioned with what he feels is the cheapening of natural pet nutrition, and cites the practice of "creative formulation and labeling" as a form of consumer fraud against animal lovers. He says that every ingredient in every product in the Clean Label Pet line is Pure, Pronounceable, and Purposeful.
"Our conversations with consumers tell us that people are weary of all of the hype around pet food and of trying to decipher long lists of ingredients that they can't even pronounce. All of this confusion hides the fact that many products on the market called natural are really 'pretenders' showing the image of clean and pure nutrition, but fluffed up with fillers and adulterated with chemicals. Too many ingredients are unrecognizable as real FOOD. All of this makes trying to understand pet food or treat labels stressful for today's health conscious pet parent."
Amanda Malone Bennie puts it this way, "With hundreds of products calling themselves all natural, the term is so overused that it has lost meaning. If you ask a consumer, they will tell you that they long for clarity and products they can use without worry for the health and enjoyment of their pets."
###
CONTACT:
Anthony Bennie
Founder and Chief Nutrition Officer
Clear Conscience Pet LLC
http://www.clearconsciencepet.com
Anthony(at)ClearConsciencePet(dot)com
203-762-8620/203-984-2101
Web address: http://www.clearconsciencepet.com
Facebook page: http://www.facebook.com/Clear.Conscience.Pet.LLC
Twitter handle: @ccpettreats
Video interviews with Founder, Anthony Bennie: visit: http://www.clearconsciencepet.com/ccp-tv.
About Clear Conscience Pet®, LLC
Clear Conscience Pet® is a multiple award winning company that creates holistically balanced innovative pet nutrition products. Through its CleanLabelPet™ initiative, the company is leading the pet food and treats industry as the first company to align with the emerging international "clean label" movement.
Clear Conscience Pet products (clearconsciencepet.com/products) include SuperGravy®, the first Holistic Instant Dry Gravy Mix, the Sliders® brand of holistic dog treats, the patent pending OSV™ dog treat and chew line, and Cruncherz™ 100% Organic Gluten & Grain-Free Bakery Treats. The company is based in Wilton, Connecticut and is family-owned by Founders Anthony Bennie and Amanda Malone Bennie. They currently market their pet food products to pet supply retailers, veterinarians, health food stores, and other pet specialty outlets.