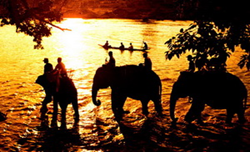 Hanoi, Vietnam (PRWEB) July 22, 2014
Becoming "A professional travel organizer" has been the principle and mission of Smile Travel Vietnam Company throughout its more than 7 years of constant development and renovation. Yesterday, the agency decided to arrange a great tour to Buon Ma Thuot- a recent attractive destination in Vietnam Central Highlands.
"Tucked deep into the Central Highlands, about 360 km from Saigon, Buon Ma Thuot is certainly worth the trip. The area is an elephant training center and offers visitors that ability to go elephant trekking in Vietnam. Thus, we named this trip as "Elephant Riding"- said the Chief Executive of Smile Travel Vietnam.
The special tour will last for 4 days and 3 nights. Leaving Ho Chi Minh City in the morning on the Highway No 14, travelers will make several breaks on the road for first hand views of pine forests, rubber, coffee plantations, tropical jungles and lunch served in a local restaurant. Enjoying this trip, holiday makers will have a chance to take an elephant ride and visit a 115 year-old house on stilts and the tomb of the king of elephant hunters, Ama Kong. Furthermore, the region is home to a number of ethnic minorities, including the Rhade and Jarai groups. Buon Ma Thout makes a great base for trekking to ethnic villages. The longhouses of the Rhade and M'nong groups are particularly impressive - try to spend a night or two if time permits. A popular stop is at the Rhade village of Buon Tuo, about 13 km from town. Thirty-five kilometers to the north, in the village of Ya Liao, can be found a 13th-century Cham tower. Especially, the third night will be spent in a bungalow after discovering the Residence of Bao Dai- the last King in Vietnamese history.
Besides the special tour, Smile Travel Vietnam agency also provides Vietnam visas on arrival without fee if they book a tour to Buon Ma Thuot with Smile Travel Vietnam agency. Normally, it costs 19 USD for one visa on arrival. Thus, holiday makers can save a lot of money if they intend to travel in a big group.
For further details, please contact sales(at)smiletravelvietnam(dot)com or call +84 976 127 023.
About Smile Travel Vietnam:
Smile Travel Vietnam has grown to be recognized as one of the leading travel agencies in Vietnam. Since 2008, the agency has been providing high quality and professional tourism services such as Vietnam visas, airfares, and tour packages.