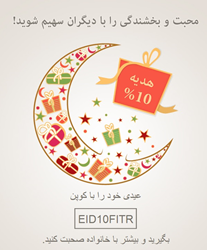 Easy to use and connection is very good and clear- Ammousavinasab, TamasbaVatan.com customer on ResellerRatings.com.
Atlanta, Georgia (PRWEB) July 23, 2014
It's that time of the year when Iranian people celebrate Eid al-Fitr, a joyous opportunity to share love and forgiveness. TamasbaVatan.com starts the celebration with a special gift: 10% Voice Credit bonus for all orders placed between July 24th and July 26th.
Eid al-Fitr marks the completion of a month of blessings and joy, that must be shared with family and friends. And what's the best way to bring people together no matter the distance that separates them? Long and frequents international calls, a solution that is properly provided by this TamasbaVatan.com offer.
The offer is valid starting July 24th until July 26th, for any Voice Credit order above $10.
The Voice Credit service works as a prepaid phone card offering all the benefits an online service provides: transparency, online account with user-friendly features, and 24/7 Customer Support. The service is intuitive and easy to use.
Calls may be placed:

from any landline, mobile or even payphone in the world, through local or toll free access numbers;
using the app called KeepCalling, which is not chargeable. The iOS and Android applications may be used to call without having to dial any access number, and even any phone number at all. Once logged in the app, customers can use their phone Contacts list to call;
from any PC with an Internet connection, through the Web Call app available in customers' accounts.
The customers may also activate the free features that make calling simple and intuitive: PINless dialing (once activated, entering the PIN is no longer necessary), and Speed Dial (by assigning phone keys to the numbers called frequently, dialing is reduced to pressing just one phone key).
In addition to user friendly services and attractive offers, TamasbaVatan.com focuses on online commerce safety. This is why there are several security filters, protecting customers from possible frauds and making all transactions 100% safe. All major payment methods are accepted: Visa, MasterCard, American Express, Discover and PayPal.
The safe transactions and easy-to-use products make TamasbaVatan.com a reliable partner in keeping a close relationship with friends and family, no matter the country they live in.
The customer-focused approach is acknowledged by customers: "Clear voice, no disconnection, easy call and fair price. I love it" (jamal_alikhani, TamasbaVatan.com customer on ResellerRatings.com), "Easy to use and connection is very good and clear" (ammousavinasab, TamasbaVatan.com customer on ResellerRatings.com).
About TamasbaVatan.com
TamasbaVatan.com is an interactive website designed by KeepCalling, a global telecommunications company registered in 2002 in USA. KeepCalling, the company behind TamasbaVatan.com, offers other telecom solutions apart from Voice Credit: Mobile Recharge, Virtual Number, Monthly Plans, Web Call and Web SMS through various ethnic websites. Presently, KeepCalling provides its services to over 200,000 consumers and businesses, with a focus on customer satisfaction. In 2013, Inc Magazine listed KeepCalling as the 16th fastest growing company in the telecommunications industry.