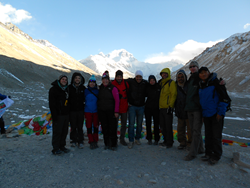 Lhasa, Tibet (PRWEB) July 25, 2014
Mt. Everest (also known as Mt. Qomolangma), the world's highest mountain with an 8,848 metres (29,029 ft) height, is located in the Mahalangur section of the Himalayas, a border area between Nepal and China. With magnificent and steep topography, it covers with snow all the year round and resembles the shape of a pyramid. Its Tibetan name Qomolangma means "Goddess the Third" making this place even more mysterious.
"Even though I have visited Mt. Everest for countless times, every time I see it, still, I will be shocked and moved, just like the first time," said Kunga, a Tibetan guide of Tibet Vista Travel. "He who fails to reach Mt. Everest, has actually never been to Tibet," he continued. "This place is definitely a must-go attraction, as it is the "third pole" of the world."
Mt. Everest is not only grand but also epic. In a range of 20km from it, there are more than 40 mountains with height of over 7,000 meters. Those great mountains sometimes hide in clouds and mist, along with the glaring snow world intrigue the curiosity of many travelers. Thus some believe the most attractive wonder is the floating cloud above the mountain. For it shapes like a flag on top of mountain, this kind of cloud is called flag cloud.
"If you are planning a trip to Mt. Everest, there are some amazing places nearby you wouldn't want to miss," Kunga said. "Gama Valley, the most beautiful valley in the world, from which you can have a vantage point to enjoy vista of snow mountains and glacier only at a price of raising your head." Rongbuk Monastery is the gate to Mt. Everest, which enjoys a perfect view for the scenery of Golden Everest. As the world's highest temple, it is also famous for its delicate and exquisite murals. "Normally speaking, we will arrange a night at Rongbuk Monastery before heading to Everest Base Camp," said Kunga. "There isn't any a fancy hotel or luxury accommodation nearby. However, travelers don't need to worry about the temperatures there because the dorm bed guesthouse often offers heating and oven to keep you warm."
"Most of our customers reckon Lhasa and Mt. Everest the essence of Tibet. In order to meet the need of our travelers, our company designed a route that combines the sunlight city and the roof of the world. Lhasa-Gyantse-Shigatse-Everest Base Camp 8 Days Tour is the most popular as well as the best-selling tours in our company," Kunga continued. For detailed information, please see at: Everest Base Camp 8 Days Tour.
About Tibet Vista
Tibet Vista (http://www.tibettravel.org), the top online Tibet tour operator, annually sends more than 1,000 individual travelers and over 100 tour groups to Tibet. It helps travelers to obtain Tibet Travel Permit, book air/train tickets to Tibet and customize their tours. The company also keeps travelers updated on latest Tibet information on Facebook (tibettravel.org) and twitter (@TibettravelOrg).