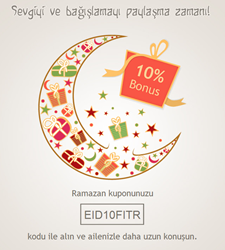 With EviAra.com, customers can call Turkey at the lowest rates.
Atlanta, Georgia (PRWEB) July 24, 2014
EviAra.com celebrates Eid al-Fitr along with its customers by offering them a 10% Voice Credit bonus on this meaningful occasion. Through this special offer, customers are encouraged to share the joy of the holiday with their loved ones, wherever they are in the world.
In order to take advantage of this promotion, customers need to place a Voice Credit order of at least $15 and use coupon code EID10FITR in the ordering process, between July 24-26. By taking advantage of this offer, customers who buy for instance $20 will receive $22. Plus, as the value of the order grows, so does that of the bonus.
The Voice Credit bought can be used to place international calls from any phone through the use of access numbers, from any computer with an Internet connection through the Web Call application or from any smartphone. EviAra.com offers a free app, for both iOS and Android devices, called KeepCalling. By using the free app, customers can make calls by using their phone contacts as long as they are saved in international format.
With EviAra.com, customers can call Turkey at the lowest rates. Calling a landline costs 3.5¢/min, while the rate for mobiles is 13.9¢/min. The fee for sending an SMS is 5¢.
In addition to Voice Credit, EviAra.com also offers Mobile Recharge, a service through which customers can recharge phones anywhere in the world. The process is fast and secure and the credit reaches its destination instantly. With over 300 operators from more than 100 countries, EviAra.com can satisfy every need of international mobile recharge.
Opening an account on EviAra.com is free and easy. What makes the service even more reliable are the 24/7 Customer Service available by phone and email in both English and Spanish, and the comprehensive Help Center. What differentiates EviAra.com from other services are the low prices offered, the frequent promotions, the simple ordering processes, and the safety of online transactions.
EviAra.com guarantees 100% transaction security and satisfaction. All major payment methods are accepted: Visa, MasterCard, American Express, Discover, and PayPal. Moreover, payment is available in several currencies: US, Australian, or Canadian Dollars, plus British Pounds and Euros. The payment security system is known as very strong.
EviAra.com runs a policy focused on integrating superior customer service, while maintaining the highest standards of technology at affordable rates. That is why EviAra.com is an affordable solution for international calls and mobile recharges.
About EviAra.com
EviAra.com is an interactive website designed by KeepCalling, a global telecommunications company registered in 2002 in USA. KeepCalling, the company behind EviAra.com, offers other telecom solutions apart from Voice Credit: Mobile Recharge, Virtual Number, Monthly Plans, Web Call, and Web SMS through various ethnic websites. Presently, KeepCalling provides its services to hundreds of thousands of consumers and businesses each month, with a focus on customer satisfaction. In 2013, Inc Magazine listed KeepCalling as the 16th fastest growing company in the telecommunications industry.