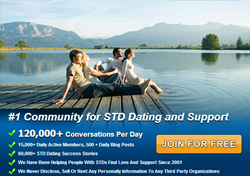 Los Angeles California (PRWEB) July 25, 2014
Recently, the largest herpes dating website PositiveSingles.com analyzed STD status of all its members and found that there had been a large increase in the number of members living with the HSV and/or HPV virus.
Living with a sexually transmitted disease can be difficult, but it is not the end, as there are many people from all around the world who manage to go on with their lives despite having been diagnosed with one of many STDs including HSV, HPV, HIV, chlamydia, thrush, syphilis, hepatitis, and more. Each of these diseases behave differently within the body, but they all maintain some similarities. One of their most obvious similarities is that all of them can be transferred from one person to another through sexual contact.
"This is not surprising," says Jenelle Marie, Spokesperson for PositiveSingles.com, "because as the number of those who are diagnosed with HSV and HPV increases, the more we'll see individuals seeking out resources such as PositiveSingles.com that can aid them in moving forward, dating, and enjoying their lives again."
Regardless of the fact that HSV and HPV are different viruses, both of them are incurable, but not usually life-threatening. Comparing the data of people living with those two STDs between May and June as a result of membership number on PositiveSingles.com, people know that more people are contracting both viruses, but also there is an influx in the number of folks seeking resources and aiming to move on with their lives mindfully
About PositiveSingles.com
PositiveSingles.com is the world's leading STD dating site and is designed for those who are living with sexually transmitted diseases. Due to the fact that users are treated respectfully while also being offered a great interface, an active user population, and unparalleled measures ensuring their privacy, the site has quickly become one of the most well-known of its kind in areas from all around the world.