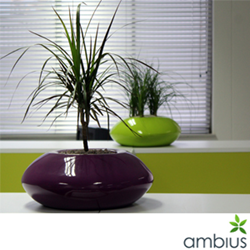 Indoor plants decrease fatigue and headaches by 30% and contribute to an environment which reduces illness-related absenteeism.
Cape Town, South Africa (PRWEB UK) 24 July 2014
At the beginning of July (July 8th – 12th) Ambius celebrated National Plants at Work Week; a week in which to consider the importance of plants in the workplace and how they add value in the office environment. However, office plants have been in the news this month for quite another reason. The department of Science and Technology has been hauled over the coals for their R1million "pot plant splurge" (2nd July 2014: "Science and Technology's R1 million pot plant splurge").
When put like that, R1million rand sounds like a huge amount of money to pay for office plants, however, when one looks at the detail, its emerges that this is actually over a five year period, and for a 10 story building. That works out to a far more reasonable R18,000 per month – or R1 800 per floor - and when you view this in light of the growing body of research around the health and productivity benefits associated with indoor plants, one may be inclined to take a slightly less dim view of the expenditure
A study was carried out in Norway by Prof. Dr. Tøve Fjeld of the Agricultural University of Norway, Ås/Oslo during autumn 1994 to February 1996 ("Do Plants in Offices Promote Health?") to determine whether plants have an impact on sick leave, productivity and work stress. The studied showed that the presence of indoor plants generally decreased colleagues' feelings of fatigue and headaches by around 30%. Health problems affected by the indoor atmosphere occurred less frequently, and the employees felt the plants to be a positive element, resulting in happier, more productive employees. The fact that plants therefore contribute to an environment which decreases illness-related absenteeism means that adding office plants to the workplace makes sound business and financial sense.
Plants are not only aesthetically pleasing in enhancing interior design, but also improve the health of colleagues in the workplace by acting as natural air filters. In areas where large numbers of people breathe the same air, office workers are often exposed to high concentrations of carbon dioxide. Office plants combat this phenomenon by absorbing carbon dioxide and releasing oxygen; quite literally breathing new life into enclosed spaces.
Carbon dioxide isn't the only problem surrounding air quality. Volatile organic compounds (VOC's) – commonly found in a wide array of building materials and cleaning products – are the primary cause of both acute and chronic diseases including cancer and neurological failure. A study conducted by Dr B. C. Wolverton, of NASA on the 15th September 1989, ("Interior Landscape Plants for Indoor Air Pollution Abatement"), indicated that indoor plants can remove up to 87% of VOC's from an interior environment over a 24 hour period.
Plants also attract dust, which means that their presence can reduce airborne particles by up to 20%, thus reducing the most common cause of headaches and asthma. Plants are also an important consideration in an office layout to reduce noise levels in noisy offices by reducing and reflecting sound, and have shown to improve workers' speed and accuracy and can even aid in fostering a sense of identity and loyalty.
One can follow National Plants at Work Week on Facebook where you can find a host of good reasons to have plants in your workplace, and tips and tricks on how to look after them.
About Rentokil Initial: The Rentokil Initial group specialises in pest control, hygiene services and interior landscaping for businesses across the globe. As the leader in the interior landscaping industry, Ambius has more than 30 years of experience in providing office plant solutions around the world providing design, supply, installation and maintenance of indoor plants. All of their products are designed to add to the aesthetic appeal and enhance the interior design of the workplace whilst improving the well-being of employees. Visit Ambius' website for more information on the environmental benefits of plants or to arrange a free survey by one of our plant design consultants, contact Ambius on 0800 77 77 88.
Source of original article: BEELD - 2 July, 2014 - R1m interior plantscaping contract
Disclaimer: The Department of Science and Technology is not a client of Ambius