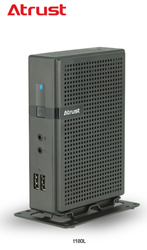 Taipei, Taiwan (PRWEB) August 11, 2014
Featuring the latest processor, Intel® Bay Trail quad core 1.83GHz, Atrust t180L offers users powerful performance with responsive and fluent desktop experience in a virtualized environment. Stunning graphics with sharp and smooth HD video playback and internet streaming are also packed in this small unit. With the built-in of DVI-I and DVI-D ports, Atrust t180L supports dual display in delivering full HD resolution up to 1920 by 1200, giving users a dynamic IT environment for diverse needs.
The t180L utilizes Atrust Linux® operating system, delivering a stable, secure and flexible environment that can do more with less. Partnership with industry leading vendors, such as Citrix®, VMware® and Microsoft®, Atrust enabling its hardware and software solutions well collaborated in major protocols. The t180L can support numerous protocols, such as VMware® Horizon View™, Citrix® XenDesktop™, Citrix® XenApp™ and Microsoft® RDP™ with RemoteFX™. Atrust Device Manager (ADM), Atrust self-developed software, comes free with every Atrust thin client. ADM is a remote and mass client management console, keeping you to centralize, manage clients remotely and simplify deployments with the flexibility of a multi-protocol environment.
Atrust t180L offers 1GB DDR RAM and 4GB flash memory. It has one USB 3.0 port and three USB 2.0 ports for excellent expandability and peripheral connectivity. Designed for ease of use while taking full advantage of the flexibility, reliability built into t180L in a versatile virtualization infrastructure. Organizations that required high-performance computing, such as financial institutions, retailers, healthcare centers or government agencies can be benefited from its design. For more information, please contact Atrust sales at sales@atrustcorp.com