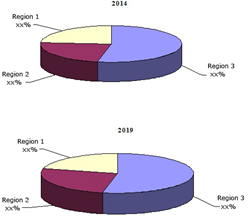 Global Market for Pesticides to Reach $83.7 Billion in 2019
(PRWEB) July 22, 2014
BCC Research (http://www.bccresearch.com) reveals in its new report, GLOBAL MARKETS FOR BIOPESTICIDES, the global market for the overall pesticides industry is expected to grow to nearly $83.7 billion by 2019, with a five-year compound annual growth rate (CAGR) of 6.3%. Biopesticides, the fastest-growing segment of the market, is moving at a significant 13.9%, more than twice the compound annual growth rate (CAGR) of synthetic pesticides.
A rapidly expanding global population coupled with limited agricultural land is driving farmers and industry to develop sustainable and productive methods of providing food to feed an estimated nine billion people by 2050. Improvements in technology, agricultural techniques and pest control have allowed farmers to expand crop production on the limited arable land available. This expansion of productivity has come with a price in soil erosion, pesticide-tolerant weeds and insects, and concerns about the safety of foods used for both human and animal consumption.
To ensure productive crops, most farmers have turned to the use of synthetic pesticides to control crop-destroying pests. During the past 20 years, however, more farmers are recognizing the need for other avenues for pest control that are not as damaging to the environment and the land. These farmers are turning to biopesticides to prevent pest damage in a more ecologically friendly manner. Many farmers are using genetically modified (GM) seeds with pest deterrents genetically incorporated into the seed.
Factors driving the use of biopesticides include increased environmental awareness, the pollution potential and health hazards from many conventional pesticides, as well as increasing global demand for organically grown food.
GLOBAL MARKETS FOR BIOPESTICIDES provides an overview of the global biopesticides and synthetic pesticides industry, including technological developments, future trends, and emerging opportunities. It includes analyses of global market trends, with data from 2013, estimates for 2014, projections of CAGRs through 2019, and profiles of companies important in the industry.
Editors and reporters who wish to speak with the analyst should contact Steven Cumming at steven.cumming@bccresearch.com.
About BCC Research
BCC Research publishes market research reports that make organizations worldwide more profitable with intelligence that drives smart business decisions. These reports cover today's major industrial and technology sectors, including emerging markets. For more than 40 years, we have helped customers identify new market opportunities with accurate and reliable data and insight, including market sizing, forecasting, industry overviews, and identification of significant trends and key competitors. We partner with analysts who are experts in specific areas of industry and technology, providing unbiased measurements and assessments of global markets. Our clients include the top companies in industries around the world as well as universities, business schools, start-ups, consulting firms and investment companies. BCC Research is a unit of Eli Research LLC. Visit our website at http://www.bccresearch.com. Contact us: (+1) 781-489-7301 (U.S. Eastern Time), or email information@bccresearch.com.
Data and analysis extracted from this press release must be accompanied by a statement identifying BCC Research LLC, 49-2 Walnut Park, Wellesley, MA 02481, Telephone: (+1) 781-489-7301; E-mail: editor@bccresearch.com as the source and publisher. Thank you.