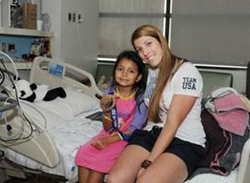 (PRWEB) July 22, 2014
On Wednesday, July 16, patients at Texas Children's Hospital were greeted by three-time Olympian Erin Hamlin. Most recently, Hamlin made history and took home the bronze medal in the singles luge event at the Winter Games in Sochi, Russia. The 27-year-old from Team USA brought smiles to patients, showed off her medal and even came with a luge in tow for them to ride.
About Texas Children's Hospital
Texas Children's Hospital, a not-for-profit health care organization, is committed to creating a healthier future for children and women throughout the global community by leading in patient care, education and research. Consistently ranked as the best children's hospital in Texas, and among the top in the nation, Texas Children's has garnered widespread recognition for its expertise and breakthroughs in pediatric and women's health. The hospital includes the Jan and Dan Duncan Neurological Research Institute; the Feigin Center for pediatric research; Texas Children's Pavilion for Women, a comprehensive obstetrics/gynecology facility focusing on high-risk births; Texas Children's Hospital West Campus, a community hospital in suburban West Houston; and Texas Children's Hospital The Woodlands, a second community hospital planned to open in 2017. The organization also created the nation's first HMO for children, has the largest pediatric primary care network in the country and a global health program that's channeling care to children and women all over the world. Texas Children's Hospital is affiliated with Baylor College of Medicine. For more information, go to http://www.texaschildrens.org. Get the latest news by visiting the online newsroom and Twitter at twitter.com/texaschildrens.