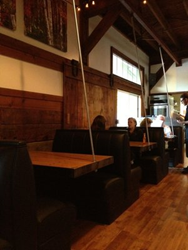 Traverse City, MI (PRWEB) July 22, 2014
Leading restaurant furniture manufacturer and distributor Affordable Seating recently helped OM Café open a new restaurant in Traverse City, Michigan by supplying them with new dining booths.
OM Café is a health food restaurant offering vegetarian, vegan, gluten free, macrobiotic and seafood. OM Café first opened in 1985 in Ferndale, MI. They recently opened a new location in Traverse City. The new restaurant is located in a 100+ year old building formerly used as a loading dock so there are high open wood beam exposed ceilings and large 6 foot barn doors. Complementing the menu is an eclectic decor starting with wood floors, exposed wood beams and relics from the building's fruit canning and warehouse distribution days, including colorful fruit crate panels. There is a lounge area and they offer Michigan craft beer and wine and organic cocktails. Brunch is served every Saturday and Sunday and there is live jazz entertainment. They also have an in-house brewer, Big Toe Brewery.
The menu offers man vegan options and focuses on a macrobiotic diet has an emphasis on grains and seasonal local vegetables that are simply prepared to keep their natural nutrition intact. Their dishes have no processed, refined, or sodium-laden ingredients. Favorite dishes include Favorites include Make Your Maki, a nori roll with a choice of premium options for $8, and The Buddhist Priest Stir-Fry, a choice of organic brown rice or udon noodles sautéed with local seasonal vegetables, basil, tamari and scallions.
OM Café also offers organic cocktails. An example of one of the drinks is the fresh-squeezed blood orange margarita. Ingredients are homemade lavender simple syrup with jasmine liqueur, organic ginger ale and lime, and spiced rum with local apple cider ice cubes and a cinnamon stick.
When the owner of OM Café opened a new location in Traverse City he was looking for seating that would be more family friendly. He chose to go with restaurant booths because their popularity with customers due to their comfort and the privacy they give diners. "As a restaurant that serves many people in the community and experiences heavy traffic throughout the day, OM Cafe was looking for durable dining booths would improve the décor and be popular with their customers," Affordable Seating sales representative David explained.
The owners decided to go with Affordable Seating's Quick Ship 6 Channel Booth. The booth sells for $220 on Affordable Seating's website and can be delivered in 7 – 10 days. All of Affordable Seating's restaurant booths are proudly made in the USA by skilled craftsmen. Affordable Seating has a wide selection of restaurant booths in many shapes, colors and fabrics and can also be custom made in any shape, size or fabric.
To view Affordable Seating's full selection of restaurant chairs, bar stools, booths, tables and patio furniture visit http://www.affordableseating.net or call a customer service representative at (888) 495-8884.
OM Café is located at 205 Lake Ave. in Traverse City, MI. They can be contacted at (231) 941-4422.