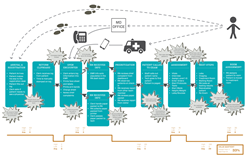 The application of Lean principles has led to increasingly well-organized spaces that make the caregiver's routine less stressful, increase patient throughput and improve the institution's bottom line. - Kent Doss, AIA, LEED AP, Lean/Six Sigma Black Belt
Philadelphia, PA (PRWEB) July 24, 2014
Array Architects understands and is committed to implementing Lean Design strategies for all healthcare clients. By committing resources to Lean and Six Sigma staff training and certification, Array continually strives to be a thought leader in improving efficiency and value to healthcare clients' projects.
Each year, Array brings staff together with clients and offers week-long training courses and encourages staff and clients to earn their Lean Green Belts. Including the clients in Lean training sessions is important as they add greatly to the intense discussions and group learning that develops during and after training. Array currently has eight staff members who have earned their Lean Green Belt certification and three who have taken the next step and earned either their Six Sigma Green or Black Belts. According to Lean/Six Sigma Black Belt, Kent Doss, "The strategies and tools employed in Lean Design are finely tuned to increase efficiencies in the conceptualization and execution of procedural operations. As healthcare designers, we have come to rely on direct observation (i.e. "shadowing") of caregivers, support staff and patients as they go about their daily routines or specific processes so that we can design spaces that account for their needs from an holistic perspective."
Read more about Array's commitment to Lean principles on our blog.
About Array Architects:
We are a team of architects and designers with unique backgrounds, but we all have one thing in common - we share a strong desire to use our expertise and knowledge to design solutions that will help people in moments that matter most. This focus makes us leaders in our field. We are the highest ranking healthcare-only practice in Architectural Record's 2013 "Top 300 Architecture Firms."
Together, we discover optimal solutions with our clients. It is our three decades of specialization that allows for effective communication, collaboration, and precision in the complex, changing world of healthcare.
Array Architects
ali ellinger
610-755-6430
aellinger(at)array-architects(dot)com