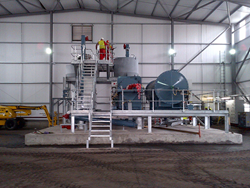 This was an exciting project for our engineers to be a part of and only furthers our vast experience and expertise!
Lincoln, Lincolnshire (PRWEB UK) 24 July 2014
GAME Engineering were commissioned to manufacture and install various parts of a 'Carbon Regeneration Plant' due to their varied experience and expertise in material handling, process design and fabrication.
The Carbon Regeneration Plant is to process a feedstock of Spent Activated Carbon so that the finished product can be reused therefore reducing the need for the production of virgin material.
The feedstock is heated in a de-oxygenated atmosphere to temperatures around 750 °C at which regeneration occurs. The result of the thermal process is to create a fully re-usable re-activated carbon for use in industrial filters. These filters can be found in water treatment, land remediation, biogas and chemical industries.
The plant comprises of an indirect fired rotary kiln, with the primary fuel being natural gas. Although the primary function of the kiln was for carbon regeneration, future works will investigate the processing of other materials with the intention of producing green electrical power.
GAME Engineering's professional expertise is valued in developing bulk materials handling, process design and fabrication projects within turnkey design and plant solutions. We have gained expertise in sectors ranging from animal feed to biomass handling, fuel generation and many more.
Our team of project engineers drive to implement cost-effective solutions in all areas of materials handling, processing plants including all project management and Health and Safety compliances to deliver within quoted budgets.
Contact one of our engineers on 01522 868021 to discuss your future projects or alternatively email: sales(at)game-engineering(dot)com.