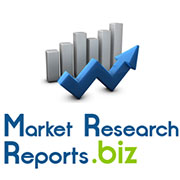 Global Molecular Diagnostics Market Report: 2014 Edition
Albany, NY (PRWEB) July 22, 2014
Over the years, medical science has made unprecedented progress in almost every sphere of human anatomy. In the pursuit, pathological sciences, in particular, have brought forth advancements that rendered the possibility of deploying certain tests that are performed on patient samples, including blood and tissues, in order to detect the presence of concerning physiological/pathological state, or concerning congenital abnormality. Essentially, In-vitro Diagnostics (IVD) have earned the title of 'silent champion' of the healthcare industry since this segment influences more than half of the decision-making in the overall healthcare industry.
Browse full report with complete TOC at http://www.marketresearchreports.biz/analysis/212971.
Under this umbrella, the fastest growing segment, i.e. molecular diagnostics, involves performing analysis at the molecular level, and thereby measurement of DNA, RNA, proteins or metabolites to detect genotypes, mutations or biochemical changes, or to test for specific states of health or disease. Such diagnostic methods are capable of detecting viruses, bacteria, and parasites at a fast pace with greater sensitivity and specificity and thus, have been receiving greater inclination from physicians and affiliates.
The molecular diagnostics procedures for infectious diseases including CT/NG, HPV; encompasses four major disciplines: Virology, Bacteriology, Genetics and Blood Screening. Due to certain underlying factors, the oncology segment of the market is poised to undergo noteworthy expansion in the near future and thereby driving the molecular diagnostics market on the holistic basis. As of now, the global molecular diagnostics market is characterized by growth in large value mergers and acquisitions, personalized treatment in the field of oncology and reimbursement trend.
Request sample of this report at http://www.marketresearchreports.biz/sample/sample/212971.
The report presents thorough analysis of the global molecular diagnostics market and its various segments and also provides detailed information pertaining to its superset market, i.e. the diagnostics and the IVD industry. It further discusses the various trends, growth drivers and challenges faced by the industry. In addition to the market contention prevalent in the global molecular diagnostics market, major industry players including Roche Holdings, Novartis, Hologic and Qiagen are profiled herein.
By combining SPSS Inc.'s data integration and analysis capabilities with our relevant findings, we have projected the future growth of the industry. We employed various significant variables that have an impact on this industry and created regression models with SPSS Base to determine the future direction of the industry. Before deploying the regression model, the relationship between several independent or predictor variables and the dependent variable was analyzed using standard SPSS output.
Browse all reports in In Vitro Diagnostics at http://www.marketresearchreports.biz/category/28.
Related Reports
Molecular Diagnostics Market (PCR, Next Generation Sequencing, Microarray, Infectious Diseases, Genetic Disease, Oncology Testing, Blood Donor Screening) - Global Industry Analysis, Size, Share, Growth, Trends And Forecast, 2013 – 2019
Molecular diagnostics is defined as a class of diagnostic tests which identifies genetic and molecular biomarkers of an individual patient. It is essentially an analysis of RNA and DNA at the molecular level. This class of diagnostics tests is considered as the most well established and lucrative market in the clinical applications segment. Traditionally, usage of molecular diagnostics was limited due to requirement of highly skilled professionals and high cost of tests. However, recent reduction in cost per sample analysis, labor costs, improvements in automation and introduction of advanced technologies have expanded the usage of molecular diagnostics tests. The growth of this market is expected to surge due to various factors such as rise in incidence of hospital acquired infections, increase in patient awareness along with growing elderly population. Additionally, outbreak of diseases such as H1N1, growing incidence of diseases such as HIV and hepatitis have augmented the growth of this market.
View full report with complete TOC at http://www.marketresearchreports.biz/analysis/186979.
In Vitro Diagnostics Market (Clinical Chemistry, Immunoassay, Diabetes Testing, Blood
Testing, Molecular Diagnostics) - Global Industry Analysis, Size, Share, Growth And Forecast, 2012 – 2018
The in vitro diagnostics market is segmented into two major types namely market by geography and market by products. The market estimation for the U.S. and two emerging economies (China and India) have also been included in the report.
The U.S., India and China in vitro diagnostics market is segmented by products into clinical chemistry IVDs, Immunoassay IVDs, diabetes testing IVDs, blood testing IVDs, molecular diagnostics, and other IVDs. The global market for in vitro diagnostics is segmented on the basis of geography into North America, Europe, Asia-Pacific and rest of the world (RoW) regions and this market is provided in terms of USD million.
View full report with complete TOC at http://www.marketresearchreports.biz/analysis/172444.
About Us
Marketresearchreports.biz is the most comprehensive collection of market research reports. Marketresearchreports.biz services are especially designed to save time and money of our clients. We are a one stop solution for all your research needs, our main offerings are syndicated research reports, custom research, subscription access and consulting services. We serve all sizes and types of companies spanning across various industries.
View other market research articles at https://www.linkedin.com/today/author/173774513.