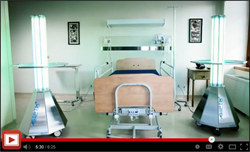 The ASEPTIX² movie demonstrates the many features the dual units deliver including the ability to eliminate shadows that block the disinfecting ability of the UVC light.
Montreal, QC (PRWEB) July 23, 2014
Sanuvox has produced a six minute movie illustrating the features and benefits of the company's latest system designed for hospital surface disinfection. The Sanuvox ASEPTIX² Dual UV Disinfection System uses a primary and secondary unit to eliminate shadows in disinfecting high-touch surfaces with ultraviolet 'C' energy controlling (6 log reduction) drug-resistant microorganisms such as MRSA and C. diff. in less than 10 minutes in a standard patient hospital room. The movie can be viewed at the following YouTube link http://youtu.be/D27aj1iiUME.
Conventional room UV disinfection systems although effective require multiple positioning within a patient or operating room to disinfect high touch areas. The dual tower operation of the ASEPTIX² allows for a faster disinfection cycle without the need for repositioning as the two tower system eliminates shadows, allowing personnel to move on to the next room quicker than ever before.
Studies show that even with the best terminal cleaning practices, an operating or patient room can remain the source of many potential harmful drug-resistant microorganisms as manual cleaning effectively cleans less than 50% of surfaces. It is estimated that HAIs (Hospital Acquired Infections) cost the healthcare system approx. 30-40 billion dollars annually in uninsurable costs where one of every 20 patients who are admitted to a US hospital falls victim to an infection they contracted while there.
According to Aaron Engel, Sanuvox Vice-President Marketing & Communications, "We are very happy with the outcome of the movie, it allows for the various departments within a hospital responsible for infection control to gain a better understanding of how the ASEPTIX² works and how it can be incorporated into their present terminal cleaning practices." Mr. Engel continued "Time is a very important factor when using a surface disinfection system. The less time it takes to properly disinfect a patient room allows the hospital to address more rooms reducing the risk from potential harmful pathogens before a new patient is admitted."
To view the six (6) minute movie, visit the following YouTube link http://youtu.be/D27aj1iiUME or http://www.sanuvox.com.
About Sanuvox Technologies:
Sanuvox Technologies Inc. is a global leader in UVGI treatment providing advanced HVAC in-duct & stand-alone UV air and surface disinfection systems. Sanuvox manufactures UV Systems for medical, commercial, residential, agricultural, food, industrial & military applications. Sanuvox UV Systems have been tested by government agencies, laboratories and universities. These include RTI, US EPA and National Homeland Security, Penn State University, McGill University & ATS Labs.