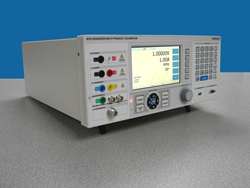 Staplehurst, United Kingdom (PRWEB UK) 24 July 2014
Transmille, an innovator in the field of precision calibration products and software, announce the new 4000 Series advanced multiproduct calibrator, the latest in Transmilles range of multiproduct calibrators. The 4000 Series is aimed at laboratories, manufacturers and design facilities requiring a wide range of outputs with accuracies up to 8ppm.
The 4000 Series builds on the trusted reliability of the 3000A series, offering an updated user interface accessed through a large 7" capacitive touch screen to enable advanced functionality including a built in procedure mode and inbuilt connection prompts to minimise errors. Procedures can be loaded into the 4000 Series via USB memory stick, with results stored for integration back into ProCal software. The 4000 Series also provides USB printer connectivity as standard, supporting a wide range of PCL compatible printers. Reports can be printed directly from the calibrator - ideal for in-situ or on-site applications.
Expanding the outputs offered by the 3000A series, the 4000 series provides an advanced oscilloscope calibration option with bandwidth calibration of up to 6 GHz with variable level. This expands the calibration workload to include spectrum analysers and high bandwidth oscilloscopes.
To maintain confidence in your equipment, simply connect an 8000 series digital multimeter to the rear of the unit and enter 'self calibration mode'. The 4000 series will then proceed to measure its outputs automatically and generate a test report which can be exported to a USB memory stick for analysis on a computer, and print a test report via a USB printer for maintaining records.
As with all Transmille products, compatibility with ProCal calibration software is guaranteed, existing procedures will not need to be re-written due to Transmilles unique implementation of flexible standards support where procedures are written around the UUT not the standard.
For more information about the Transmille 4000 Series Advanced Multiproduct Calibrator, simply visit our website at http://www.transmille.com.