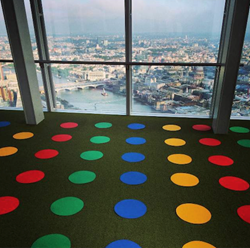 Its just a great icebreaker. Having a laugh is the best way to meet someone. - Juliett McCrimmon, DoingSomethings head of events.
London (PRWEB UK) 23 July 2014
Activity based dating site DoingSomething has long promoted that the best way of getting to know someone new is doing a shared activity. And as well as being fun, the game may be an innovative way of assessing potential partner compatibility.
Daters will negotiate the brightly coloured discs covering the open-air Level 72 viewing gallery at the highest accessible point of The Shard. The game will be compared by Tristram Shackerley-Bennett, the popular Inflatable Church host which has become a favourite at festivals such as Bestival.
The Duppy Share - the brand new golden Caribbean rum - will help get the party started. Giving all daters a glass of their 'twist' on a classic rum punch on arrival. After all what would a giant game of twister be without a little Jamaican courage for good measure?
DoingSomething.co.uk CEO Matt Janes comments 'Our site is all about people getting to know new people in a light hearted, non awkward way. Everyone playing has something in common from the get-go. Not least of which they've decided Twister is a perfectly valid first date activity!'
Juliette McCrimmon, DoingSomething.co.uk's Head of Events adds 'It's just a great ice breaker. You can't take yourself too seriously when you're upside down or have got your elbow in a stranger's face. Having a laugh is the best way to meet someone.'
In February DoingSomething built an Igloo at the top of the Shard, and this latest event begins a season of Shard Lates dating events at the The View from The Shard with forthcoming neon ping-pong and a horror special over Halloween.
For more information, or to book visit http://www.doingsomething.co.uk.
EVENT DETAILS
When: Wednesday August 6th, 10pm-1am
Where: The View from The Shard, Floors 69 and 72
How much: Tickets £39 and include free drink on arrival
Admission includes a one months membership to DoingSomething.co.uk (worth £29) so players can keep in touch after the event.