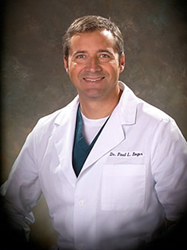 Russell, PA (PRWEB) July 24, 2014
Local residents who have experienced the discomfort of gum disease and its associated symptoms now have a new option for effective relief, thanks to a leading dentist near Russell, PA, Dr. Paul L. Boger of Market Street Dental. Dr. Boger makes effective gum disease treatment easier than ever with the incision and stitch-free dental laser surgery technique known as the LANAP® protocol.
Gum disease symptoms can include swelling, redness, bleeding, bad breath and tenderness in the gum areas. If not properly treated, bone loss occurs and the gum tissue recedes and exposes the roots of the teeth, making teeth more vulnerable to damage, decay, and loss. Tooth loss can then lead to the further loss of bone in the nearby jaw area, as the roots of the teeth stimulate the bone—stimulation that no longer occurs once teeth are gone. Traditional gum disease surgery requires the use of a scalpel to literally cut out infected tissue. This process leads to the loss of healthy gum tissue as well as bleeding and a lengthy, painful recovery time. The LANAP® dental laser surgery changes all of that. No scalpel is used, no cuts are made, and no stitches are placed. Bleeding and discomfort are minimal and most patients can continue their daily activities as soon as they leave the dental chair.
The PerioLase® MVP-7™ laser seeks out only diseased cells and eliminates them. All healthy cells are left intact and undisturbed, to contribute to the decreased pain and recovery time. Dr. Boger solidifies his position as a leading dentist near Russell, PA by his use of the LANAP® protocol. It is consistent with his commitment to outstanding treatment and care for his patients. Treating gum disease is also an important element to one's overall health and wellness, as periodontal infection is associated with several medical conditions. These include stroke, pancreatic cancer, heart disease, gestational and Type 2 diabetes, premature birth, low birth weight, and more.
Residents are invited to contact local dentist near Russell, PA, Dr. Paul Boger, and schedule a consultation with him at Market Street Dental. Dr. Boger welcomes any and all questions about dental laser surgery or other dental health topics of concern to you. He and his staff look forward to helping you create the healthy smile you have always wanted.
About the Doctor
Market Street Dental is a general practice offering personalized dental care for patients in Warren, PA. Dr. Paul Boger is a 1993 graduate of the University of Pennsylvania School of Dental Medicine, and has been committed to adopting the latest technologies for more than 20 years for the benefit of his patients. Dr. Boger belongs to the one percent of dental professionals currently providing the Laser Assisted New Attachment Procedure (LANAP®), the first FDA-cleared laser procedure for gum disease and periodontal treatment. Dr. Boger is a certified instructor for the Institute for Advanced Laser Dentistry and has helped to train Doctors from all over the country (and several from abroad) in the LANAP protocol.
To learn more about Market Street Dental and their dental services visit their website at http://www.dentistwarrenpa.com/Home.aspx, or call (814) 313-1866.