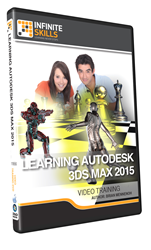 Learn Autodesk 3ds Max 2015 at your own speed.
(PRWEB) July 22, 2014
Software training firm Infinite Skills Inc. last week released its Learning Autodesk 3ds Max 2015 Tutorial, an introductory course designed to provide new users with a solid foundation in all the essential elements of 3D animation using this high-capability 3D modeler.
Autodesk 3ds Max is a 3D computer graphics program with professional-grade features and rendering capabilities. The program finds its widest use among video game developers, but its rich array of animation and modeling features is also popular in television and film, as well as in architectural visualization.
Infinite Skills' Learning Autodesk 3ds Max 2015 Video Tutorial teaches the essential skills for learning to model, animate, and render scenes in the program's latest edition.
Learning Autodesk 3ds Max 2015 Tutorial - Streaming
Course author Brian Mennenoh has been working in 3D modeling for more than twenty years. After earning a degree in fine art and graphic design, he began applying his interest in art to digital animation, teaming up with his brother to produce a successful video game. He has produced animations for companies such as Carquest and The Green Bay Packers. He is currently lead instructor and department chair at Milwaukee Technical College, where his teaching focus is on 3D modeling, rigging, and texture art.
Mennenoh organizes this fundamentals course around the creation of an animated scene where a character hunts an ancient artifact and must retrieve it by replacing it with a stone.
Through the creation of this basic scene, users will learn essential interface navigation, fundamental modeling skills, how to work with materials, basic and advanced lighting, and rendering techniques.
Students will produce a fully rigged animated character and use the storyboard to bring the scene to life in the final animation.
"In this course we'll cover many of the features available in 3ds Max 2015," Mennenoh says. "At the end of the lessons, you'll have created a fully-skinned and rigged lead character who retrieves an idol in the cave. You'll leave with a solid foundation in 3ds Max, and be able to start working on your own projects, building from the course lessons."
Free demo videos and a full list of course contents can be found on the Learning Autodesk 3ds Max 2015 Tutorial training page on the company website.
http://www.infiniteskills.com/training/learning-autodesk-3ds-max-2015.html
Infinite Skills offers its Learning Autodesk 3ds Max 2015 Tutorial either as a DVD or a direct download from the company website at a retail price of $99.95, or as part of its subscription streaming service available at a rate of $25 per month. Though the compatibility of programs varies, all Infinite Skills titles and formats work on both Mac and Windows operating systems, and shipping is available around the globe. Additionally, Infinite Skills tutorials are supported by project files which correspond to examples in the videos.
About Infinite Skills Inc.
A leader in the field of software training, Infinite Skills designs its courses on a task-oriented model, teaching complex skills by providing hands-on examples and guiding users as they carry out essential functions. Infinite Skills offers a wide range of software titles available as DVDs, digital downloads, and in iPad editions. Infinite Skills now offers a subscription service, providing access to all its training content for a monthly fee, keeping with company's aim of delivering professional training to customers anywhere they want to learn.