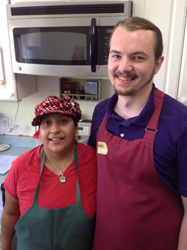 Napa, CA (PRWEB) July 22, 2014
What is a chef to do when he leaves town but breakfast still needs to be served? The answer is simple. He hires great people to train and help him do his job, providing the same quality of ingredients, preparation and execution of recipes.
The Inn on First is happy to announce the recent hiring of Jade Carty as innkeeper and part-time chef de cuisine, as well as the promotion of Veronica Gonzalez to sous chef and chef de cuisine.
"We are so excited," said Chef Jim Gunther, co-owner and executive chef of The Inn on First. "With over 125 recipes to choose from for breakfast, it was important to hire individuals who were not only smart and skilled in the kitchen, but are capable of working with global cuisine."
As a premier food destination in Northern California, The Inn on First prides itself on offering the best breakfast in the Napa Valley. The chefs are also capable of reworking recipes to be gluten-free, dairy-free, nut-free, vegetarian and vegan.
The Inn on First congratulates Carty and Gonzalez on their new positions and looks forward to the work they will do for the inn. To learn more about The Inn on First, visit http://theinnonfirst.com/.
About the company:
The Inn on First provides romantic getaways in the Napa Valley that will surpass all expectations. They can offer landscapes of rolling hills and beautiful vineyards of the entire Napa Valley. With a location that is one of the most sought after destinations in the country, the Inn and rooms are the perfect complement to a Napa Valley experience and make for a romantic atmosphere for loved ones. The Inn on First is always committed to providing their guests with an experience unlike any other, providing them with the utmost care and service. For more information, please visit their website at http://theinnonfirst.com/.