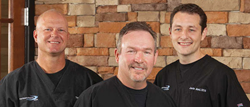 Fort Worth, TX (PRWEB) July 22, 2014
Fort Worth Dental specializes in cosmetic dentistry to improve the quality of smiles and is now offering Zoom Whitening treatment in the office. Along with a range of products patients can use at home to supplement the teeth whitening services received in the office, the Zoom Whitening procedure can brighten a patient's teeth up to eight shades whiter in a single 45-minute visit.
The Zoom Whitening method of teeth whitening offers stunning results in remarkably little time. The dentists in Fort Worth, TX that provide the treatment at Fort Worth Dental assess the patient's smile and other factors to choose the correct degree of Zoom Whitening to use for maximum results in each individual patient.
The partnership between the dentists in Fort Worth, TX and their patients, who supplement the care at home, is even stronger with the Philips Zoom Whitening system. The doctors at Fort Worth Dental create the plan and implement the initial steps, with the patient seeing a radical change in one 45-minute office visit. The patient can also take products home to maintain and enhance their new white smile.
With the Sonicare DiamondClean whitening toothbrush, patients maintain sparkling smiles day after day with effective brushing that provides a tune up whitening effect, following the professional teeth whitening provided by the doctors. The DayWhite and NiteWhite options offer products that patients can wear to enhance the teeth whitening services provided in the office by the dentists in Fort Worth, TX. A simple pen-style applicator is also available for patients to touch up their smile on the go, with the Philips Zoom Whitening Pen.
For more information about the dentists in Fort Worth, TX providing an effective and rapid system of teeth whitening services with the Phillips Zoom Whitening system, visit the office on the web at http://www.fortworthdental.com and call (817) 500-0254 to learn all about the range of services offered at Fort Worth Dental.
About the Doctor
Fort Worth Dental is a general practice offering personalized dental care for Fort Worth, TX patients. Dr. Terry M. Zang, Dr. Arthur J. Mund and Dr. Justin Mund are all dedicated to their dental practice, which offers the LANAP® protocol, an FDA cleared laser procedure for gum disease treatment. Focused on preventative, restorative and cosmetic dentistry, they each have unique attributes for the practice. To learn more about Fort Worth Dental and their services visit their website at http://www.fortworthdental.com and call (817) 500-0254.