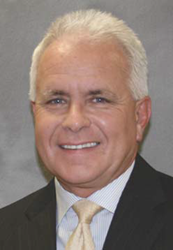 New York, NY (PRWEB) July 22, 2014
Gilbane Building Company, an industry leader in mission critical construction, today announced that Robert Andrews has been promoted from the company's Western Region Director of Mission Critical to Global Director of Mission Critical. In his new role, Andrews will move his base of operations from Silicon Valley to New York City, where Gilbane was just named "2014 Contractor of the Year" by Engineering News-Record (ENR) New York, a leading publication for the engineering and construction industry.
Andrews will lead Gilbane's Mission Critical Center of Excellence (COE) – the company's team of mission critical specialists who remain ahead of the newest thinking in the high density computing industry and keep pulse on the needs of the ever-changing technology landscape. He brings to this position more than 38 years of commercial construction expertise, including 18 years working exclusively delivering Internet data center mission critical facilities and data center design-build projects for major web hosting facilities for clients beginning with Exodus and later including Morgan Stanley, AAA, Disney, Google, Amazon, Equinix, Savvis and Apple. He has been responsible for the construction of over four million square feet of mission critical facilities in some of the most demanding environments in the U.S., Europe, Asia and Middle East.
"Robert's industry expertise combined with his network of some of the most respected leaders in data center design offer our clients highly innovative ways of navigating challenging circumstances, achieving critical completion dates and ensuring their facilities provide for uninterrupted performance 365 days a year," said Dennis Cornick, Executive Vice President and National Director of Sales and Marketing at Gilbane Building Company. "Under Robert's leadership, our Mission Critical COE will continue to identify innovative management strategies to deliver projects of all levels of density and redundancy to our clients in the most cost effective and efficient way."
Andrews commented, "Gilbane's support behind the expansion of the company's Mission Critical sector truly exemplifies their commitment to remaining a leader in this innovative and evolving technology market."
Recently ranked one of the top 10 builders of mission critical facilities in the country by Building Design + Construction (BD+C), Gilbane's global experience has resulted in the successful completion more than 10 million square feet of mission critical facilities worth more than $2 billion in the last 10 years. Gilbane is currently working on several mission critical facilities of various sizes in the U.S. and expanding internationally. In his new global role, Andrews will lead Gilbane's most experienced mission critical construction professionals to define best practices and ensure Gilbane is providing cutting edge recommendations on best systems, products, and materials that are optimum for operation, maintenance, and longevity for our clients.
Andrews joined Gilbane in 2012. He holds Bachelor's degree in Management from Boston College and is an active member of several mission critical organizations including the 7x24 Exchange, the Uptime Institute and Datacenter Dynamics.
About Gilbane Building Company
Gilbane provides a full slate of construction services—from pre-construction planning and integrated consulting capabilities, to comprehensive construction management, close-out and facility management services—for clients across various markets. Marking its 141st year in operation and still a privately held, family-run company, Gilbane has more than 50 offices in various locations around the world. To find out what the next 141 years have in store, visit http://www.gilbaneco.com.
###