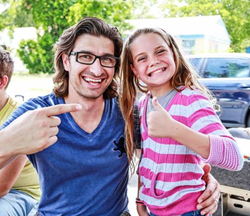 The problem will not end overnight, but we don't intend to allow the fight to end either.
Dallas, TX. (PRWEB) July 29, 2014
With the marching orders of "Making Good Bolder," Actors, Models and Talent for Christ Staff, Grads and Grad families joined together with 8 DAYS film to make a stand against the evil of sex trafficking. From lead actress (Nicole Smolen) to supporting actors (Kim Baldwin Turner, Luke Burton, Hans Ndam, Bryson Funk, Meagan Bruce, Dennis Lockman, Marikje, Austen Williams, Brandon Chase, Miles Wooden, Malia Brown, McKenna Sparks, Harrison and Christian Schick, Kiyomi Sanders, Savannah Holladay…) to many of the extras, the cast and crew is full of AMTC Grads. Eager to use their talents to "do good" and fight this crime, grad families were quick to get involved.
"Everyone has something to offer." Director and Presenter for AMTC, Jaco Booyens says. "Whether it be acting, organizing, drawing, music, photography, catering, serving… God gave you something to bless and serve people. We are surrounded by too many talented people to not make a difference."
That's what the AMTC family aims to do. The feature film—inspired by actual events—depicts the unexpected and heart-wrenching form of modern day slavery that happens in our backyards, hotels and neighborhoods across the nation.
"Sex trafficking is a silent faceless epidemic and 8 DAYS will thrust Americans into realizing the truth about this crime," says Jaco Booyens, Director of 8 DAYS. "This is not a religious, political or racial issue, it is an unacceptable issue and we must stop the sex trafficking of our American children."
Based in the Dallas Hub, families, staff and performers banded together to hold fundraisers, coordinate catering and produce a feature film. AMTC Staff members Jaco Booyens (Director) and Philipa Booyens (Screenwriter) led the charge to get involved. Katrina Cook of Katz Kasting volunteered to cast the film. As a long time agent of AMTC, she found the best talent and many of them happened to be AMTC grads. AMTC head acting coach Chey Sanders coached the actors through their scenes. Texas manager Dan Funk and wife Krystal (an AMTC TA), along with grad mom Karen Jenkins organized, produced and coordinated people, props, vehicles, licenses and locations. Dallas Team Leaders Gina Arreaga and Rhonda Fullerton were instrumental in the production of the film (also look out for their cameo appearances!). Grad mom Ricki Boone Marcum led catering. Model coach David Collins led wardrobe design and organization. AMTC make up artist Meagan D'Von led a team of make up and hair artists including Holly Ernst and Elaine Barnett. AMTC grad Olivia Delaney and coach Bryson Funk created the theme song entitled FADE OUT for the film. The soundtrack for the film is filled with AMTC grads.
For a full list of cast and crew, please visit their IMDB page which is linked on their website: http://www.findamber.com.
The 8 DAYS movement (dedicated to ending human trafficking) is being catapulted by the nationwide premieres and awareness campaigns. The events in eight major US cities are collectively and individually fundraisers, political rallies, screenings and concerts that benefit local anti-sex trafficking organizations. The approach is unconventional and unique, with ticket sales as well as funds raised going directly to the local anti-sex trafficking organizations. These organizations will use these funds to help with rescuing and rehabilitating victims as well as building and expanding safe homes.
"It is our goal that by dispersing funds to many organizations we can truly share together in the blessing of support and the burden of the fight," explains film Director, Jaco Booyens. "The problem will not end overnight, but we don't intend to allow the fight to end either."
Premiere Info:
Date City
September 9 Los Angeles, CA
September 11 Seattle, WA
September 16 New York City, NY
September 18 Washington, DC
September 23 Atlanta, GA
September 25 Nashville, TN
September 30 Chicago, IL
October 2 Dallas, TX
In addition to the premieres, the film will be available to over 500 human trafficking organizations for showings across the country for eight days beginning on October 3rd.
To donate, please visit: http://www.sharetogethernow.org/donate/
For more information about AMTC, go to http://www.amtcworld.org.