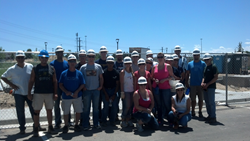 This organization doesn't just help provide homes to our community; it helps provide hope.
Denver, CO (PRWEB) July 23, 2014
For the past seven years, Zunesis has partnered with Habitat for Humanity Metro Denver to fund a home for a deserving Habitat partner family in the Denver Metro area. Earlier this month, the Zunesis team enjoyed the honor of breaking a sweat alongside this year's partner family and the Habitat team as together they laid the foundation, literally, for this year's home.
Breaking a sweat may be putting it lightly as the temperature on the day of the build reached over 97 degrees. However, despite the heat, members of the Zunesis team described the experience as something that made them feel alive; connected; and most all, grateful. "It's not until you stand beside someone who hasn't been given as much as you, but who is still grateful for everything that they do get, that you realize how truly blessed you are," said Zunesis' Marketing Manager, Megan Shaffer.
Working on this home with the partner family brought this year's donation to life for the company. "We have been blessed by working with Habitat for a number of years," stated Steve Shaffer, CEO of Zunesis. "This year is special because our entire team has the chance to not only meet our partner family but also to work alongside them, to partner with them not only in funding but also in labor. It helps us see them not as a cause but as people, just like us."
The family will be given the keys to their completed home at Zunesis' annual benefit, Night of Miracles, in November.