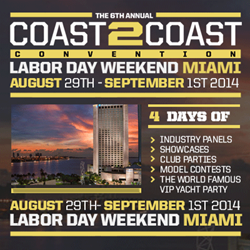 Miami, FL (PRWEB) July 23, 2014
The 6th Annual Coast 2 Coast Convention will take place Labor Day Weekend, August 29th through September 1st, in Miami. The 4 day event will include Music Industry Panels, Club Parties, Showcases, Model Contests and the World Famous VIP Yacht Party! The convention will be located at the Intercontinental Miami, located at 100 Chopin Plaza, Miami, FL 33131.
The Coast 2 Coast Convention is a professional music-industry networking event focusing on the new music industry. The convention, presented by Coast 2 Coast Mixtapes, in association with iStandardProducers.com, will be a weekend-long series of events held in Miami, FL Labor Day Weekend 2014. The main panel events will feature top music industry professionals in every field. The after parties will span multiple Miami "hotspots" and feature a DJ Showcase to close out the event.
Independent artists will have a chance to network and perform music for dozens of top music industry professionals with the winning artist hosting their own Coast 2 Coast Mixtape and cover of Coast 2 Coast Magazine. The panelists scheduled for the 6th annual Coast 2 Coast Convention will include, Grammy Winning, Multi Platinum Producer Rockwilder, Cool Running Djs' Bigga Rankin, HipHopDx.com's Justin Hunte, DJ Epps, DJ Nasty, and many more.
The convention kicks off on Friday, August 29, with registration at The Intercontinental 'Monster Chill Lounge' Powered by Monster Energy, where convention goers will have the chance to network early and get charged up on some Monster Energy drinks. Later that night, the Coast 2 Coast Live Miami Show will take place at The Stage, located at 170 NE 38th St, Miami, FL 33137, where several artists will have the opportunity to showcase their talents in front of celebrity judges for a chance to win several career catapulting prizes.
Saturday, August 30, will start off with a hand full of vendor presentations in the 'Monster Chill Lounge'. Following the presentations, will be the Coast 2 Coast Interactive Industry Panels Day 1 consisting of a keynote speech, "The Social Media Influence Panel", the "Social Media Group Exercise", "Your Network is Your Net Worth Panel", a "Networking Group Exercise", the "Main Event Artist Showcase" and the "Official After Party" on South Beach.
Sunday, August 31, is day 2 of the Coast 2 Coast Interactive Industry Panels, which will contain the "Hey DJ Won't You Play My Song? Panel", several "Critique My Single" sessions, the "I Got Beats Yo! Producer Panel", the "Main Event Round 2 Artist Showcase", and the "Coast 2 Coast DJ Experience".
Monday, September 1, concludes the convention with the "VIP Yacht Cruise and Coast 2 Coast Model Contest" on "The Biscayne Lady". All VIPs will join Coast 2 Coast on the Yacht to relax on the last day of the 2014 Coast 2 Coast Convention, and enjoy a professional Model contest boasting some of the most beautiful women ever seen.
For additional information and to purchase tickets for the 6th annual Coast 2 Coast Convention, visit http://www.coast2coastconvention.com.
About Coast 2 Coast Mixtapes
Coast 2 Coast Mixtapes are the most widely distributed mixtapes in the world, with over 100 million downloads/plays generated by over 200 volumes officially hosted by major artists. Coast 2 Coast has a solid reach in the new music industry with a digital magazine, DJ coalition, industry tips blog, yearly convention, and more. Coast 2 Coast Mixtapes represents a unique opportunity for artists of all urban genres, from major to indie. For more information, visit http://www.coast2coastmixtapes.com.