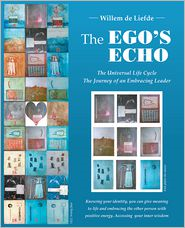 'I took an age-old African concept and constructed an ingenious matrix I call the Universal Life Cycle.'
Johannesburg, South Africa (PRWEB) July 23, 2014
It all started as a meeting of souls from Africa and Europe in an attempt to find common ground. Willem de Liefde wanted to help family, friends and colleagues find themselves at the crossroads of their lives or careers.
Willem wrote The Ego's Echo for those who are willing to dig deeper and look beyond the surface of things. It is an invitation to go on a continuing journey into the future, driven by care and commitment.
This book represents a breakthrough in the quest for individual and collective fulfillment. The Ego's Echo leads readers to the realization that our success lies in working together in harmony to become a driven organization.
"If we are able to understand and align the interaction between our conscious and subconscious mind, the power released is unimaginable," says de Liefde. "It's like an erupting volcano of positive energy; creative energy, logic and feelings of joy and harmony."
De Liefde says if people can break these mental barriers, they can create a better life for everyone. The ULC is a helpful tool to help carry companies through the difficult process of awareness, reconciliation and forgiveness.
"I took an age-old African concept and constructed an ingenious matrix I call the Universal Life Cycle (ULC) to help you understand yourself, your team and your company," de Liefde says. "The ULC is a clever tool to help carry your company through the difficult process of awareness, reconciliation and forgiveness."
The Ego's Echo
Willem de Liefde
190 pages
Paperback, retail price: $14.99
E-book, retail price: $3.99
ISBN: 978-1-45259-442-2
Available at http://www.amazon.com and http://www.barnesandnoble.com.
About the author
Willem H. J. de Liefde was born in Coevorden, The Netherlands. His career started as an officer in the merchant marine. He ended his naval career as an officer in the Royal Dutch Navy. Willem then studied economics and held several management and directorships in Europe, the United States and Africa, working for multinationals as such as Ericsson, Rank Xerox, Rockwool and Draeger. His expertise is in managing transformation and inspiring people. His best results are achieved through sharing the truth, through intuition, and through using art as a hidden message.