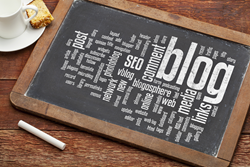 Blogging can help small businesses increase their website rankings, engage customers and project an image of authority.
(PRWEB) July 23, 2014
GetUWired, a full-service Internet marketing firm specializing in guerrilla marketing and marketing automation, has just released an informative blog titled "Why You Need to Be Blogging Now" on its website, http://www.GetUWired.us. You can read the full blog here.
This blog details the many reasons that blogging is beneficial to small business owners with a limited advertising budget.
Cut Through Ad Clutter with Blogs
Consumers today are constantly inundated with advertisements. So if a business wants to grab its customers' attention, the business must try a different approach. Blogging helps businesses reach out to their customers in a personal way. Today's consumers tune ads out. But they tune in to storytelling, personal messages, and what seems like real human contact.
Benefits of Blogging
In addition to being one of the best ways to engage an audience and develop a "personal" connection, blogging has a host of other benefits for small businesses, such as:
1. Blogging helps websites rank higher in the search engines.
Posting fresh content keeps the search engines happy. Posting new, relevant content to the website will let the engines know the business cares about its site and its visitors, and they will reward that site with a higher search engine ranking.
2. Blogging helps build authority.
When business owners blog intelligently and regularly about topics related to their business (intelligently being the operative word here), they can position themselves as an authority in their market.
Consumers doing online research about that subject will see the business owners' blog posts come up in the results if the blogs are optimized with the right keywords. As users see the business' name and read its informative content over and over, it gives them the impression that the business owners is an authority on that subject. Over time, the blogger will even become a real authority as he or she does more research and writing on the industry.
3. Shared blogs are the next best thing to "word of mouth" advertising.
If blogs are well-written, interesting and engaging, they'll be shared. Each time a person shares a blog, the recipient will automatically give that article more weight simply because it came from a friend. Sharing blogs is akin to "word of mouth" advertising, but online.
4. Blogging is one of the cheapest ways to spread a message.
Blogging is free, or it can be. Business owners can write their own blogs for nothing more than a little time and effort. If they don't have the time or expertise to write their own blogs, professional blog writers can provide an expert-quality product that's worth the little extra money. A professional blog writer will optimize the blog for SEO, write to the target audience, and structure the blog in such a way that sells the product without blatantly "selling the product".
GetUWired offers professional blog writing services.
GetUWired's seasoned copywriter can craft blogs for any site that are informative, fun, and engaging to customers. For more information, call 877-236-9094 or visit http://www.GetUWired.us today!