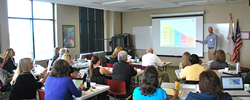 Portland, OR (PRWEB) July 23, 2014
Earth Advantage, the Portland, Oregon nonprofit provider of green building research, education and certification, is proud to announce a new licensing agreement with the Massachusetts Board of Real Estate Appraisers, Inc. (MBREA) to deliver the Accredited Green Appraiser (AGA) courses across all six New England states beginning in June. MBREA, an appraisal association based in Boston, Massachusetts, educates appraisal professionals throughout New England and participates in leadership roles within the Appraisal Foundation.
Stephen Sousa, executive vice president of MBREA said, "Four of our highly-qualified instructors have already completed the entire AGA course series, and they were all very impressed by the quality and depth of the coursework. We feel these topics will only serve to grow in popularity in the coming years, and we're excited to now be at the forefront of that horizon."
MBREA will deliver live classes covering two of the three course modules of the AGA series, Construction Methods & Trends and Valuation Techniques. Appraisers who take these first two modules will then have the option to complete the series and earn the full accreditation by enrolling in the online version of module three, Advanced Applications. A live classroom version of the third module may also be offered at a later date. The AGA designation provides appraisers with a way to signify to lenders and homebuyers they are competent to accurately value the increasing number of green and high performance homes being listed in real estate markets throughout the nation.
To learn more about Earth Advantage's AGA designation and course offerings, visit: earthadvantage.org/education/.
About MBREA
MBREA is dedicated to supporting, promoting and encouraging the highest level of professionalism and ethical appraisal standards, through education and communication, and to represent the interests of our members. To learn more about MBREA, visit: mbrea.org.
About Earth Advantage
Earth Advantage is a Portland-based nonprofit whose mission is to accelerate the creation of better buildings. We provide knowledge to building professionals and information to consumers through certification, research, education, and product development to move the building industry towards more sustainable practices.