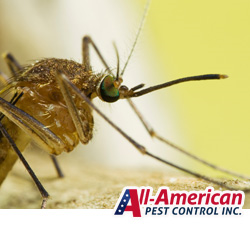 With each bite being a tiny injection into the skin, it is very important that you and your family become aware of the ways to prevent mosquito infestations and mosquito bites.
Nashville, TN (PRWEB) July 24, 2014
Summer is in full swing and if you haven't yet noticed, so are mosquitoes. Will Nashville residents ever be free from the threat of these biting insects? Mosquitoes are the most common outdoor pest and also the most trouble to deal with during the summer and fall months. They are not only responsible for itchy red bites on the skin but mosquitoes can also transmit several diseases to humans and pets. With each bite being like a tiny injection into the skin, it is very important that you and your family become aware of the ways to prevent mosquito infestations and mosquito bites.
There's been several thousand cases of West Nile virus reported to the CDC in the past few years and it's quite likely that several more cases were never reported. While this virus can be fatal to a small percentage of people, many go without any symptoms at all. A few other potential diseases spread via mosquito bites are Chikungunya virus, malaria, and eastern equine encephalitis among others. Keep in mind, not all diseases are present in the U.S. but if you travel, the threat of mosquito borne illness may increase.
Reducing the amount of mosquitoes that are attracted to your property is the most successful way to decrease their overall presence. At All-American Pest Control, we offer a program to do just that! Our Perimeter PLUS pest control program will significantly reduce the overall presence of over 40 different pests, including mosquitoes. Your home will be visited by our specially trained service technicians on a quarterly basis. The spring and summer visit will consist of two separate services for your exterior perimeter. One will be on your home, applied to such places as:
-splash blocks
-foundation walls
-window sills
-door openings
-garbage cans
The second treatment will be on landscaping, tree canopies, vegetation and any other locations that may be the grounds for potential mosquito breeding. Spraying for mosquito eggs and breeding areas will significantly decreases their overall presence thus reducing the threat of mosquito bites while spending time outside this summer.
While professional mosquito reduction services are the best defense, there are a few simple things that Nashville residents can do to lower the mosquito presence in their yard.
-allow no standing water on property
-be sure all gutter and water shedding systems are clean and flowing
-repair or replace all window and door screening that may be damaged
-keep grass and vegetation cut back as short as possible
Mosquitos are so common that we often don't realize just how dangerous that they can be. If you're finding these buzzing pests around your property this summer, we encourage you to seek the assistance of a pest control professional.
###
All-American Pest Control is a local, family owned and operated pest control company and has been serving Middle Tennessee since 1961. Visit http://www.allamericanpestcontrol.com to learn more!