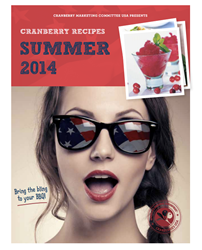 Our new summer eCookbook demonstrates the uniqueness of cranberries, in that the fruit can be used in so many different ways to enhance meals at all different times of the year. - Scott J. Soares, Executive Director, CMC
Wareham, MA (PRWEB) July 23, 2014
The Cranberry Marketing Committee (CMC) USA invites summer enthusiasts from coast to coast to download its new summertime eCookbook featuring twenty new and original summer recipes. Recipes include an array of cranberry salads, BBQ sauces, chutneys, cranberry spareribs, salmon, turkey and stuffed tomato grillables, beverages, and refreshing desserts. The CMC's collection is a part of a concerted summer campaign to highlight the year-round culinary versatility of America's Original SuperfruitSM.
"Our new summer eCookbook demonstrates the uniqueness of cranberries, in that the fruit can be used in so many different ways to enhance meals at all different times of the year," said Scott J. Soares, Executive Director, CMC. The newest eCookbook follows the CMC's release of "Top 20 Recipes to Watch in 2014." in January. The July edition of the free downloadable cookbook complements a cache of "Get Your Cran On" summer ideas that have been hitting the social media scene since June.
Coryanne Ettiene of Kitchen Living with Coryanne featured a cranberry sorbet and cranberry sangria on Food.tv. PartyBluPrintsBlog.com whipped up great July cranberry party tips from a cranberry coulis to cranberry baby back ribs and more. Emily Lyon's CleverHousewife.com suggested a cranberry pineapple punch. BetterinBulk.net offered up cranberry orange muffins and PlayPartyPin.com whipped up a cranberry orange bread with free downloadable printable tags. An easy-to-make cranberry Brie appetizer was on tap from Surfandsunshine.com and a cranberry summer slush came from RebelChick.com.
Recent research shows evidence that the cranberry may provide big health benefits. A serving of fresh cranberries is a good source of vitamin C and fiber, provides polyphenols, and contains only 1 mg of sodium. For more recipe ideas, go to http://www.uscranberries.com.
About the Cranberry Marketing Committee (CMC)
The CMC was established as a Federal Marketing Order in 1962 to ensure a stable, orderly supply of good quality product. Authority for its actions are provided under Chapter IX, Title 7, Code of Federal Regulations, referred to as the Federal Cranberry Marketing Order, which is part of the Agricultural Marketing Agreement Act of 1937, as amended. This Act specifies cranberries as a commodity that may be covered, regulations that may be issued, guidelines for administering the programs, and privileges and limitations granted by Congress. For more information about the CMC, visit uscranberries.com or follow @uscranberries and Cranberry Cravers on Facebook.