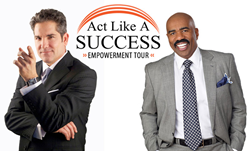 (PRWEB) August 22, 2014
New York Times bestselling author, self made multimillionaire entrepreneur, husband and father Grant Cardone, will join award-winning television and radio host, Steve Harvey, on his "Act Like a Success" Empowerment Tour 2014-2015. This amazing tour of motivation, education and inspiration will feature Steve Harvey along with transformational speakers Lisa Nichols, Patrice Washington, and other special guests along the tour. Grant will be speaking in Indianapolis, St. Petersburg, Chicago, Orlando, Los Angeles, Washington DC, Philadelphia, Newark, and Detroit. For more information visit http://actlikeasuccess.com/tour/.
Cardone, known for his in your face approach, is bound to strike a chord with audiences as he focuses on explaining how middle class myths are holding people back and keeping them stuck in survival mode. He'll share the harsh realities of what the new American Dream is as he inspires everyone to approach success as their duty, obligation and responsibility. Cardone will share his own story of loss and persistence, of being lost, without purpose and the mind shift he made in his life that made him a millionaire by age 30. Now at 56, Grant is a successful businessman, father, husband and friend who inspires millions to be incredibly grateful but never satisfied.
"This is a huge opportunity to help people to stop thinking in terms of "just enough" or "comfortable" and make the switch towards thinking in terms of "wealth," "abundance" and the massive levels of action needed to get there and not just financially, but in all categories of life. The goal is to have greatness across the board --finances, business, mind, spirit, family, friendships and community. I'm incredibly grateful to join Steve Harvey, Lisa Nichols, Patrice Washington and other top-notch speakers, authors and motivators who share the same values. I'm excited for it," offers Cardone.
The Steve Harvey "Act Like A Success Empowerment" Tour is about education and empowering people to be their best. Harvey will share the exact steps he's taken to create a life of holistic prosperity. He will provide a life-changing experience in the entertaining, straight-talk fashion his fans have come to know and love him for, but in a way that turns his longtime fans into diligent students. During this powerful experience, he will teach how to overcome fears and challenges and how to set big goals for oneself. Harvey will talk about career, finances, relationships, health and how to work with the right tools, resources and powerful strategies to get to the next level of success.
"We wanted to involve speakers who are fearless with a very unique tone and the ability to grab audience attention and profoundly impact them. We want people to leave the experience significantly changed and ready to take action. After watching Grant Cardone we saw someone who is refreshingly real, entertaining, down to earth and can capture the serious urgency these tough times calls for, we knew Grant would be a great fit for the 'Act Like a Success Empowerment' tour," adds Harvey.
Information about this tour can be found here: http://www.actlikeasuccess.com.
Information about Steve Harvey can be found here: http://www.steveharvey.com.
About Grant Cardone:
Grant Cardone is a self-made, highly successful entrepreneur with multiple businesses. Cardone Training Technologies and Cardone Group, his training arms founded on Cardone's trademarked Information Assisted Selling (TM) technology, offer a sales training facility and two web-based sales training platforms, Cardone on Demand and Cardone University. Cardone Real Estate Acquisitions focuses on multi-family real estate investing, with a portfolio valued at an estimated $350 million dollars. Grant has appeared on Fox News Channel, CNBC, MSNBC and contributes to Entrepreneur.com, Business Insider, Well Fargo Small Business, American Express OPEN Forum and many more. Follow Grant for free sales tips and strategies, or visit GrantCardone.com.