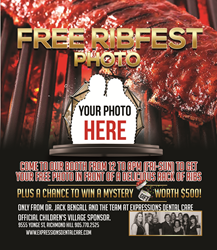 Free photo and mystery surprise worth over $500!
Richmond Hill, Ontario (PRWEB) July 23, 2014
One Richmond Hill dentist is giving friends and families that come to the Richmond Hill Ribfest Event something more to smile about – a free photo of them in front of delicious ribs along with mystery prizes.
Photos will be taken on July 25th-27th between 12pm and 8pm at the Expressions Dental Care Booth at Richmond Green Park for the Richmond Hill Ribfest Festival. Prizes will be revealed there along with the big $500 mystery surprise.
Dr. Jack Bengall and his team at Expressions Dental Care are the official sponsors of the 2014 Richmond Hill Ribfest Children's Village. They emphasize sleep dentistry for people with dental anxiety, emergencies and restorative and cosmetic procedures. Dr. Bengall is available to provide more information at 289-809-2276, or visit the website at http://www.ExpressionsDentalCare.com. For more information about the event itself, RichmondHill.ca/ribfest.