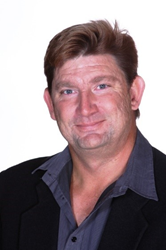 Stamford, CT (PRWEB) July 23, 2014
Richard Simons, CEO of Creative Virtual USA will present as a panelist during a webinar focused on "Increasing Revenue with a Virtual Agent." The webinar and roundtable discussion will be held on Wednesday, July 30th at 11 AM EST and will feature Johan Jacobs, Executive Consultant and Former Gartner Research Director.
"A virtual agent can be used to increase sales in a support environment, while also allowing a customer to self-serve in the channel of their choice," Simons said. "It is a very powerful tool that more companies could certainly take advantage of."
Johan Jacobs will provide unique insights from his over ten years' experience working with leading companies and from his role at Gartner. The format for the roundtable will allow attendees to submit questions in advance of the event.
Register now and propose your roundtable question for the panel to discuss.
What Attendees will learn:

How to drive revenues by enabling customers to self-serve
Best practices for using virtual agents to close deals on the spot
How to improve productivity of live chat agents in the selling process
The agenda for this session will include the following:

Opportunities for Revenue Generation with Former Gartner Research Director, Johan Jacobs
Examples of Creative Virtual Revenue Generating Virtual Agents with Richard Simons, CEO of Creative Virtual USA
Roundtable discussion based on participants' questions
Register today to attend this informative panel and submit your question.
About Creative Virtual
Creative Virtual is a leader in self-service customer experience management solutions for enterprises. Global organizations like HSBC, Verizon, CA Technologies, E*TRADE, Lloyds Banking Group, Renault and National Rail Enquiries rely on our technology to optimize their customer support, sales, marketing and call center teams, reduce costs, increase online sales, and achieve operational excellence across mobile, web, and social media channels. Since 2004, Creative Virtual has built the most advanced technologies in knowledge management, natural language processing, and virtual assistants to help businesses deliver intelligent, personalized customer experiences that reduces email and call volume, builds brand loyalty, and increases customer engagement at a lower cost per conversation. Delivering accuracy of over 90%, our platform is the most compelling self-service product in the world today. For more information about Creative Virtual solutions, products and software, please visit our website at http://www.creativevirtual.com.