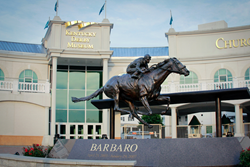 Our primary goal is to get green industry business owners together and help solve common issues they face.
St. Paul, MN (PRWEB) July 22, 2014
HindSite Software recently announced their third annual HindSite Business Summit will be held October 22. Once again, the event will be held at the Kentucky Derby Museum at historic Churchill Downs in Louisville. The Business Summit will coincide with PLANET's Green Industry & Equipment Expo which runs October 22-24. The 2014 HindSite Business Summit will focus on helping green industry business owners grow their businesses, network with peers and learn how software can help them achieve business goals.
The day will start with a Traction session led by Alex Freytag, co-founder of ProfitWorks. Freytag will speak about implementing the Entrepreneurial Operating System™ (EOS) to help businesses and leadership teams simplify, clarify and achieve their visions. Next up, HindSite's own Marketing Manager, Chad Reinholz, will talk about email marketing best practices. Reinholz will show how HindSite can help leverage the power of customer and prospect databases to drive revenue growth.
Over the lunch hour, a representative from U.S. Lawns will speak about potential business opportunities with the growing franchise. The day will also include a guided walking tour of legendary Kentucky Derby Museum and Churchill Downs where participants will learn about past Derby winners and the rich history of the location. As one of Louisville's premiere attractions, the museum gives a firsthand look at the event for which Louisville is known worldwide.
The rest of the afternoon will be dedicated to all things HindSite. President David Crary and Director of Product Development Mike Van Ordstrand will speak about the new features recently released in HindSite that make it easier to manage and grow a green industry business. The last session will consist of raising questions and issues to Van Ordstrand, who will educate attendees on how to use software to solve common business problems.
"Our primary goal is to get green industry business owners together and help solve common issues they face, "explained Crary. "We've lined up some great speakers around topics that owners consistently tell us they struggle with in their business."
HindSite also will be exhibiting in booth #2007 at the Green Industry Expo October 23 and 24th in Louisville.
About HindSite Software
HindSite Software has helped contractors better manage and grow their business with field service software since 2001. Initially designed as irrigation business software, HindSite today assists service businesses with scheduling and billing, contact management, field data collection, and invoicing in QuickBooks® and Sage 50®. When used by lawn care businesses, this paperless lawn care software has been proven to increase efficiency and organization, meaning greater profit potential with less administrative time.