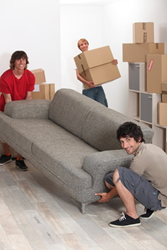 Lenders still address the same criteria, such as credit score, debt-to-income ratio and employment history. However, they focus their attention on the weakest link
Chicago, IL (PRWEB) July 23, 2014
Married couples aren't the only people who are making a joint home purchase.The Federal Savings Bank has been seeing a rising amount of joint home applications from prospective home buyers.
Many groups of friends pool their funds to buy a property. The benefit is that they can enjoy a more affordable down payment, closing costs and monthly mortgage bills than they would had they bought homes separately. Plus, unlike an apartment, they get more freedom and space along with the savings. If an individual and a few buddies are considering this route, there are many factors to weigh before getting started on the home buying process.
Consider how well you know your friends
If one has shared an apartment with their pals, they're probably well aware of who doesn't wash dishes and like to spend an unnecessary amount of time in the shower in the morning. While understanding and compromising on these issues is important for living with others - whether they be friends, strangers, family or others - they are second to ones knowledge of their proposed roommates' financial histories.
Before applying for financing and searching for homes, take some time to share information such as each others credit scores, income, savings, debts and other pertinent financial details, all of which are important for mortgage approval. This gives everyone an idea of the household's monetary obligations and the source of the income that will pay the bills.
Strategically apply for a home loan
When filling out an application for a low cost mortgage with other borrowers, different factors are evaluated than if they were applying alone. Lenders still address the same criteria, such as credit score, debt-to-income ratio and employment history. However, they focus their attention on the weakest link, particularly the borrower with the lowest credit rating.
Getting to know the financial history of their friend's helps determine who will be listed on the mortgage. If one roommate has poor credit, he or she can be excluded to increase the chances of approval. Keep in mind, however, that having each roommate on the home loan is a good way to ensure that each person has an equal obligation to pay the mortgage bill each month.
Get written legal protection
A tenants-in-common agreement is a legal document drafted up by a lawyer that lists rules and guidelines for the living arrangement. Most importantly, it notes how the bills will be paid, such as who is responsible for each one and what amounts each person pays per month. The lawyer can also include provisions regarding the presence of pets, noise volume limits and other factors related to your daily life.
Essentially, this document functions in the same manner as a lease agreement. It also lists steps for what happens if one roommate cannot afford his or her share of the bills or wants to move out.
For information about getting a low rate mortgage to facilitate a joint home purchase, contact the Federal Savings Bank, a veteran owned bank.