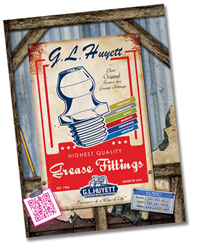 Minneapolis, Kansas (PRWEB) July 24, 2014
G.L. Huyett, a manufacturer, master distributor, and importer of non-threaded fasteners and grease fittings, proudly offers a free, thoroughly-researched and beautifully-illustrated 296-page catalog containing nearly every grease fitting model ever made, plus a complete line of grease guns, hoses, connecting parts, lubrication equipment, tools, and accessories.
In addition to a new e-commerce website, http://www.huyett.com, that provides 24-hour access to more than 95,000 parts in over 600 product lines, G.L. Huyett has developed a series of informative catalogs to support their extensive lines of pins, retaining rings, keystock and machine keys, shafting and shaft collars, and assortments. The Company has also recently produced a definitive guide to grease fittings.
Along with a complete part reference of imperial, metric, and non-ferrous fittings, G.L. Huyett's Grease Fitting catalog features actual size technical drawings of parts and support information to make them easier to identify. Special product notes, cross-references, and plating options are listed for all parts along with the corrosion-resistant materials used to manufacturer them. Item numbers and product descriptions are also included to facilitate your development of a quote or for part number verification.
Product category section dividers and headings have been specifically designed provide a wealth of technical knowledge about each section. Included are simple diagrams to illustrate complicated definitions, detailed illustrations that demonstrate how to use common and uncommon accessories and attachments, and actual size thread gauges for easy part identification.
You will find product specifications and standards that govern each parts category for SAE, SAE-LT, PTF/NPTF, UNF, ISO Metric, DIN, and British Standard parts. A comprehensive thread design guide fully explores the nuances of parallel and tapered thread types, the pros and cons of using self-sealing threads vs. those that require sealant, and recommendations as to when to use a ball-check or plunger-check. There is also an exhaustive comparison of Thread Forming and Drive Type automatic installation fittings including an assessment of assembly costs, installation methods and challenges, and the importance of pre-testing.
The G.L. Huyett Grease Fitting catalog provides detailed information related to the production, inspection, and performance testing of grease fittings. Additionally, the catalog will introduce you to a number of options and alternatives to traditional grease fittings including special use fittings such as Flush Type, Button Head, and Rivet Type fittings. You will also discover a thorough reference for and a complete line of O-Rings, Pipe Plugs, connection parts, accessories, and assortments.
Sample pages of the G.L. Huyett Grease Fitting catalog can be found online along with product training guidance and application illustrations at http://www.huyett.com/knowledge-vault.
Get your free copy today. Visit http://www.huyett.com or call 785-392-3017 to make finding and buying grease fittings easier.
About G.L. Huyett
Established in 1906 by Guy Huyett in the "other Minneapolis," the company is one of the oldest continuously operating businesses in Kansas. The company was founded on the production and distribution of machinery bushings. In the 1990's, entrepreneurial owners Tim and Carol O'Keeffe recognized huge potential in offering low order minimums, same-day shipping, and expanding product offerings to a complete inventory of pins, retaining rings, grease fittings and accessories, bushings, washers, shims, shaft collars, assortments, and tools.