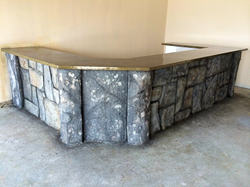 "By using Tru Pac, we reduced our cost by shipping only 10,000 lbs of material instead of the planned 50,000 pounds on a recent amusement park project."- Logistics Coordinator, Jim Crabath
Morris, IL (PRWEB) July 23, 2014
Specialized concrete mixes such as those for pouring concrete counter tops, overlaying floors, and creating decorative walls, are complex designs that can be costly to buy and are not readily available in all areas. If a contractor has to order it in, there is a hefty freight cost which can add another 50% to the bill. Now you can easily and economically produce high-performance concrete mixes at greatly reduced costs by using Walttools Tru Pac decorative conversion kits.
User-friendly Walttools Tru Pac conversion kits are small self-contained ad pacs which are added into inexpensive bagged concrete products the end user obtains from local outlets such as a common big box home improvement store. These highly specialized ad pacs contain the "secret ingredients" that make these mixes so specialized and provide the specific properties for that concrete trade. The locally bought bag mixes then provide the heavy, yet simple bulk ingredients such as the Portland cement, lime, sand, etc. This enables a user to stock up on the Tru Pacs and get the bulk mix whenever needed with a simple stop at a local store. For the contactor that orders in a hefty amount of their current materials, this offers them a more green solution by buying locally. Currently there are four Tru Pac ad pacs from Walttools. Two vertical concrete carving mixes, Tru Pac V and Tru Pac X, Tru Pac C for countertop and Tru Pac O for stampable overlayment. In the works is one for self-leveling underlayment.
Tru Pac C is the smallest Tru Pac of the group and only weighs 7 pounds. To use it, you simply add a Tru Pac C to a 60 pound bag of common concrete or sand mix. It will transform that basic concrete mix into a very workable high performance concrete countertop mix with greatly improved strength, workability and finish properties. All of this at a cost that is at least half of the specialty bags mentioned in the beginning.
To make vertical concrete, you simply combine one of the Tru Pacs for vertical with a locally obtained bag of mortar mix. This will then create a 100lb batch of carving mortar for at a fraction of the cost of the standard 50lb bags bought thru traditional channels. Two formulas of Tru Pac are available, depending on the application. Tru Pac V is a lightweight mix for applications from 1 inch to more than 3 inches thick and is typically used for heavily carved finishes, such as boulders and other deep-relief effects. Tru Pac X is a versatile mix that can be applied at thicknesses of less than 1/4 inch up to 4 inches to properly prepared surfaces.
For the busy overlayment contractor, Tru Pac O can literally save thousands in freight cost and burned fuel in the course of a busy season. Tru Pacs can be a real aid in planning logistics as well by allowing a busy contractor to know they are only a quick visit to their local big box store for the supplies they need.