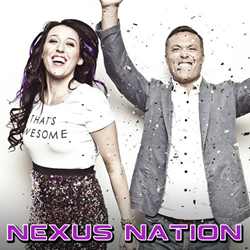 We worked so hard with FLG Psyche to get this launched and it really is the best way for us to interact with our fans, to say thank you for all their support, and to bring them into our world and have a part in helping us grow! - Carmen Rainier
Chicago, IL (PRWEB) July 28, 2014
It's impressive to say the least. In fact, it's so impressive that some of EDM's top artists have already created amazing fan bases using the same technology and platform.
Like "Team Hardwell" or "Krewella's Krew," the platform engages key influencers within existing social media fan bases, targeting each influencer with missions, points and prizes. Enter (We Are) Nexus with their Nexus Nation and you have the perfect fan base for the crazed Nexus fan.
Launched just last week, the fan site, once visited, prompts you to sign up and become a Citizen using one or more of your existing social media platforms. From here, you can access an exclusive free Nexus track, "Shamelessly (TERA Remix), all Nexus content available for sale, killer merch and prizes, and updates regarding everything (We Are) Nexus.
Each user participates in missions which include tweeting, posting on Facebook, sharing photos on Instagram and more. Including the hashtags #wearenexus and #nexusnation earn you more points. The more you post, the more you earn and there's a clever leader board that jockeys you against other fan Citizens.
At the end of the pre-determined period, the top Citizens win amazing prizes such as custom Scosche headphones, custom etched iPads, Scosche Boom Bottles and other great Nexus merch.
"This is an incredible platform" says Nexus vocalist Carmen Rainier. "We worked so hard with FLG Psyche to get this launched and it really is the best way for us to interact with our fans, to say thank you for all their support, and to bring them into our world and have a part in helping us grow!"
FLG Psyche is the brains behind the platform boasting clients such as Capitol Records, Alesso, Krewella, and Hardwell to name a few. Using proprietary software extracting the key influencers within social media, the platform is able to identify these influencers and build upon existing fan bases creating an incredible buzz and reach within a short period of time.
Nick Gunn, producer and composer for Nexus says "This is a great way for us to give back to our fans in a way that allows them to participate in what we are doing, it's really quite brilliant. The merch and prizes we have lined up are mind blowing, I would definitely like to own one or more of the prizes we are giving away!"
Nexus blasted onto the EDM scene almost one year ago with their breakout hit "It Feels So Good," a cover to Sonique's 1998 hit of the same name, followed this past January by "World Around Me," which became an instant hit at dance radio nationwide. The Chicago based EDM duo have certainly had quite a year and are poised to become EDM's brightest new stars.
Become a Citizen of Nexus Nation and join now at: http://www.wearenexusedm.com/nexusnation and begin sharing posts, earning points and a chance to win amazing prizes. Get their latest release "Shamelessly" at iTunes at https://itun.es/us/sfxk1