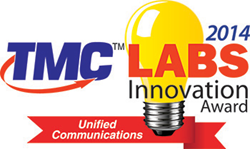 We have continued to move in the direction of offering high value in the marketplace through our VoIP solutions with the development of new applications and enhancements
Sarasota, FLorida (PRWEB) July 24, 2014
IPitomy, a leader in VoIP unified communications platforms including premise based and virtual cloud based business solutions, announced today that TMC, a global, integrated marketing company, has named IPitomy's advanced VoIP solution as a recipient of its 2014 Unified Communications Excellence Award presented by INTERNET TELEPHONY magazine.
IPitomy, providing innovative VoIP telephony for thousands of businesses across the US, added many new features and enhancements to its already robust VoIP communications platform in 2014. Focused on the needs and desires of modern businesses, IPitomy added several features and applications such as IPitomy's Contact Manager desktop dialing software which integrates IPitomy phones with an attractive contact database as well as easy to use 'Clip to Dial' on screen functionality. Dynamic SIP Ceiling Speakers were also added to IPitomy's SIP device lineup, which allows for seamless overhead paging in business office applications. This alleviates the need for expensive external paging equipment, lowers the total cost of ownership for businesses, and offers integrated PBX features such as scheduled calls and pages that have not been available before.
As SIP trunking has become more attractive to companies looking to save on monthly phone bill expenses, IPitomy has partnered with GGC to offer their own line of competitive SIP trunk packages. "This past year has been another busy year for IPitomy. We have continued to move in the direction of offering high value in the marketplace through our VoIP solutions with the development of new applications and enhancements. We have increased the value point for IPitomy users by offering them more high tech, yet user friendly options than ever before," Nick Branica CEO.
"It gives me great pleasure to grant a 2014 Unified Communications Excellence Award to IPitomy for its innovative VoIP solution and the team's commitment to addressing the real needs of the marketplace," said Rich Tehrani, CEO, TMC. "It's inspiring to see such commitment to excellence and I look forward to many future innovations from IPitomy."
Unified Communications Excellence Award winners are published in the November 2014 issue of INTERNET TELEPHONY magazine.
For more information about TMC, please visit http://www.tmcnet.com.
About IPitomy Communications:
IPitomy Communications is a premier pure voice over IP PBX system that is meeting a market demand internationally for a feature-rich, price competitive Unified Communications Business System. IPitomy designs and manufactures a complete line of IP telephony equipment including IP PBX Systems, IP Telephones, Desktop Call Manager and Call Center Software. For more information visit http://IPitomy.com.
About TMC
TMC is a global, integrated media company that supports clients' goals by building communities in print, online, and face to face. TMC publishes multiple magazines including Cloud Computing, M2M Evolution, Customer, and Internet Telephony. TMCnet is the leading source of news and articles for the communications and technology industries, and is read by as many as 1.5 million unique visitors monthly. TMC produces a variety of trade events, including ITEXPO, the world's leading business technology event, as well as industry events: Asterisk World; AstriCon; ChannelVision (CVx) Expo; Customer Experience (CX) Hot Trends Symposium; DevCon5 - HTML5 & Mobile App Developer Conference; LatinComm Conference and Expo; M2M Evolution Conference & Expo; SmartVoice Conference; Software Telco Congress; Super Wi-Fi Summit - The Global Spectrum Sharing and TV White Space Event; SIP Trunking, Unified Communications & WebRTC Seminars; Wearable Tech Conference & Expo III; Fitness and Sports Wearable Technology (FAST) Expo II, WebRTC Conference & Expo IV; and more. Visit TMC Events for additional information.
For more information about TMC, visit http://www.tmcnet.com.
FOR IMMEDIATE RELEASE
Contact: Nick Branica
IPitomy Communications
941.306.2200
nbranica(at)IPitomy(dot)com
TMC Contact:
Jessica McCaffrey
Marketing Manager
203-852-6800, ext. 170
jmccaffrey(at)tmcnet(dot)com