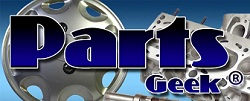 (PRWEB) July 23, 2014
Shock absorbers are absolutely essential to the well-being of a driver as well as the passengers of a vehicle. Without properly functioning shock absorbers, those who drive over potholes or bumps in the road will feel the impact of them a lot more than they should. Once it is determined that a shock absorber is not doing its job correctly, replacing it is absolutely necessary. Those who are looking for high-quality and affordable shock absorbers will be pleased with the inventory on the Parts Geek website. In fact, Parts Geek is pleased to announce that they now have over 20,800 shock absorbers available on their user-friendly website. Their shock absorbers can be found by clicking the following link: http://www.partsgeek.com/parts/shocks.html.
Parts Geek offers products from some of the top brands in the industry such as Bilstein, Delphi, AC Delco, Motorcraft, Rancho, Eurospares, Original Equipment, Sachs, Monroe, KYB, Genuine, Koni, Boge, and Arnott. They also offer shock absorbers for 50 makes that includes Volvo, Buick, Kia, Lincoln, Lexus and more that can be found listed on their Shock Absorbers page.
Parts Geek is known for offering unbeatable prices and services. Those who are searching for shock absorbers on the Internet will be hard-pressed to find another website that offers as vast as an inventory as Parts Geek does. Also, customer service is Parts Geek's top priority, so those who are interested in reading reviews about their shock absorbers will find over 970 of them just on their shock absorbers.
With many products in brand new condition and also available for free ground shipping, potential customers can rest assured that Parts Geek has the best interests of the customer in mind. To hear more about the company as well as view their shock absorber inventory, please visit their website today.
About the Company:
At Parts Geek, they offer the best and most competitive prices on imported and domestic car parts. They also offer automobile accessories, and many of their items ship quickly—all from warehouses scattered throughout the US. Customers can pick from thousands—if not millions—of new automotive parts, refurbished/rebuilt parts, and more from reliable and certified manufacturers. To learn more, please visit http://www.partsgeek.com.