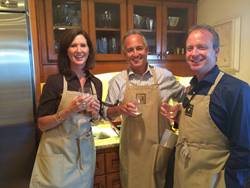 Team building events with Lajollacooks4u are always fun...It's a fantastic experience, learning to prepare and then getting to dine on a delicious meal. Chef Jodi is so knowledgeable—there are many things I learned that I can use at home.
San Diego, CA (PRWEB) July 23, 2014
Returning for more gourmet food and great memories, a local San Diego-based life sciences company chose Lajollacooks4u again for their team building event. This local corporation first made their appearance in Chef Jodi Abel's kitchen in 2012. After having a wonderful first visit participating in Lajollacooks4u's unique cooking and dining activity, the group was thrilled to come back for another fun, gourmet experience.
Lajollacooks4u welcomed sixteen industry leaders from a diverse range of departments, including operations, finance and science. The group of top-performing executives collaborated to prepare their private, customized menu, which featured delicious dishes designed to meet the dietary needs of the individuals. After a period of mingling, the executives divvied up for some head-to-head cooking competitions that would build team camaraderie and encourage the development of good communication.
In two teams of eight, the team members competed in friendly cooking challenges to prepare each dish of their menu. For the event's appetizers, the teams prepared Wild Mushroom and Pepperoni Pizza Rolls with a special Roasted Tomato Sauce, and Fresh Berries, Fennel and Roasted Purple Onion over Mixed Greens salad. The main entrée of Grilled Rack of Lamb complemented by a Cucumber Yogurt Sauce also included two side dishes of Garlic Truffle Oil Fries and grilled asparagus and garden-fresh zucchini. Mini Mudslide and Lemon Curd shooter desserts completed the meal. With wine flowing into team member's glasses, the group was able to relax and enjoy each others' company.
One of the team members, who had attended the first team building cooking class with Lajollacooks4u, enthused, "team building events with Lajollacooks4u are always fun and entertaining with delicious food and great drinks. It's a fantastic experience, learning to prepare and then getting to dine on a delicious meal. Chef Jodi is so knowledgeable—there are many things I learned that I can use at home."
While picking up new skills in the kitchen, teams also gain experience collaborating to meet a common goal and establish a sense of team unity, both of which are important for creating a productive and friendly work environment. In Lajollacooks4u's intimate and friendly setting, the executives experienced a boost in team morale, which will certainly benefit their future work activities.
Lajollacooks4u's team-building events accommodate groups as small as six to as large as thirty. Popular team-building events include executive and department members, new hires, sales meetings, and employee rewards. All events with Lajollacooks4u are personally customized to meet the needs and desires of the business.
About Lajollacooks4u
Lajollacooks4u, founded in 2008, provides a unique and intimate activity for couples, corporate team building, and any foodie looking for a unique cooking and culinary experience in an ideal setting overlooking the Pacific Ocean. Based in La Jolla, a suburb of San Diego, CA, Lajollacooks4u has enjoyed record growth since its inception and is ranked as a top attraction in La Jolla on the world's largest travel review site, Tripadvisor. For more information or to make reservations, contact Jodi Abel at jodi(at)lajollacooks4u(dot)com or via phone at 1-858-752-4980, or visit Lajollacooks4u's website at http://www.lajollacooks4u.com.