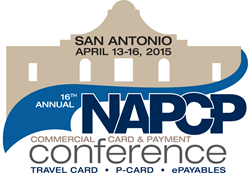 "I think this is a great opportunity to talk to all the market leaders."
(PRWEB) July 23, 2014
The NAPCP is headed to the Southwest for its 16th Annual Commercial Card and Payment Conference in 2015—and dynamic speakers are currently being sought to make it an event to remember.
San Antonio, Texas, will host the industry-leading event April 13-16. Six hundred Commercial Card and Payment professionals are expected to converge on the Alamo City for four days of educational sessions, informative exhibits and demos, and great networking opportunities.
The call for presenters is now open for the conference. The NAPCP is looking for presentations in areas such as auditing, payment efficiencies, technology, business travel management and more. Presenting at the conference is a great opportunity for industry professionals, with benefits including:

Being a speaker also means reaching a diverse audience of Commercial Card and Payment professionals. This past April, the NAPCP's 15th Annual Commercial Card and Payment Conference in Palm Springs, California, drew attendees from 227 end-user organizations and 88 provider organizations.
"I think this is a great opportunity to talk to all the market leaders," says Purchasing Card Program Manager and NAPCP member Chad Robison. "It's important to talk to people in your industry, people who could give you some good ideas, maybe share some experiences and help each other out. I think this is the best place to network with companies that are in your industry."
Those interested in presenting at the conference should fill out the proposal submission form online by October 1.
Early-bird registration for the 2015 NAPCP Commercial Card and Payment Conference will also begin October 1. For more information on the conference, including exhibit, demonstration and sponsorship opportunities, please visit napcp.org/2015 or contact NAPCP Managing Director Laura Flandrick at Laura_Flandrick(at)napcp(dot)org or telephone 952-546-1880 extension 2.
About the NAPCP: The NAPCP (napcp.org) is a membership-based professional association committed to advancing Commercial Card and payment professionals and industry practices worldwide. With a community of 13,000 members and complimentary subscribers, the NAPCP is a respected voice in the industry, serving as an impartial resource for members at all experience levels in the public and private sectors. Learn more about the NAPCP in this new video.