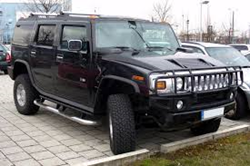 San Francisco, CA (PRWEB) July 22, 2014
G-Style Hummer Accessories has announced the a brand new full selection of Hummer parts available at http://www.gstyle4u.com/.
G-Style Hummer Accessories custom manufactures parts and accessories for the now discontinued Hummer H-2 and H-3. Customers can be rest assured that they will always be able to find replacement parts and accessories from the G-Style.
The H2 was built under contract by AM General at a specially constructed plant in Mishawaka, Indiana, USA. The H2's final frame assembly is made up of 3 sections: The front uses a modified GM 2500-Series utility frame, the midsection is all new and is completely boxed, and the rear section uses a modified GM 1500-Series frame which is upgraded for the 8,600 pounds (3,900 kg) gross vehicle weight.
The Hummer H2 is an SUV and SUT that was marketed by General Motors under the Hummer brand. It is a large truck (slimmer than the Hummer H1), while longer, lighter, and taller with room for six passengers (including driver), seven passengers in some models. The rearmost part of the H2 SUV was modified to a pickup truck bed for the 2005 H2 SUT ("Sport Utility Truck"). The Hummer H2 was the only one of the trucks to have the letters HUMMER between the grille. The H2 SUT is considered a pickup truck for its abilities to haul cargo with an extendable box to reach 6 feet in length. This makes the SUT able to haul the same cargo most trucks can haul.
Visit G-Style Hummer Accessories at http://www.gstyle4u.com/ or call them at (866)714-9988.